Latest News
National recognition for innovative health care projects
Published: Friday, 22 June 2018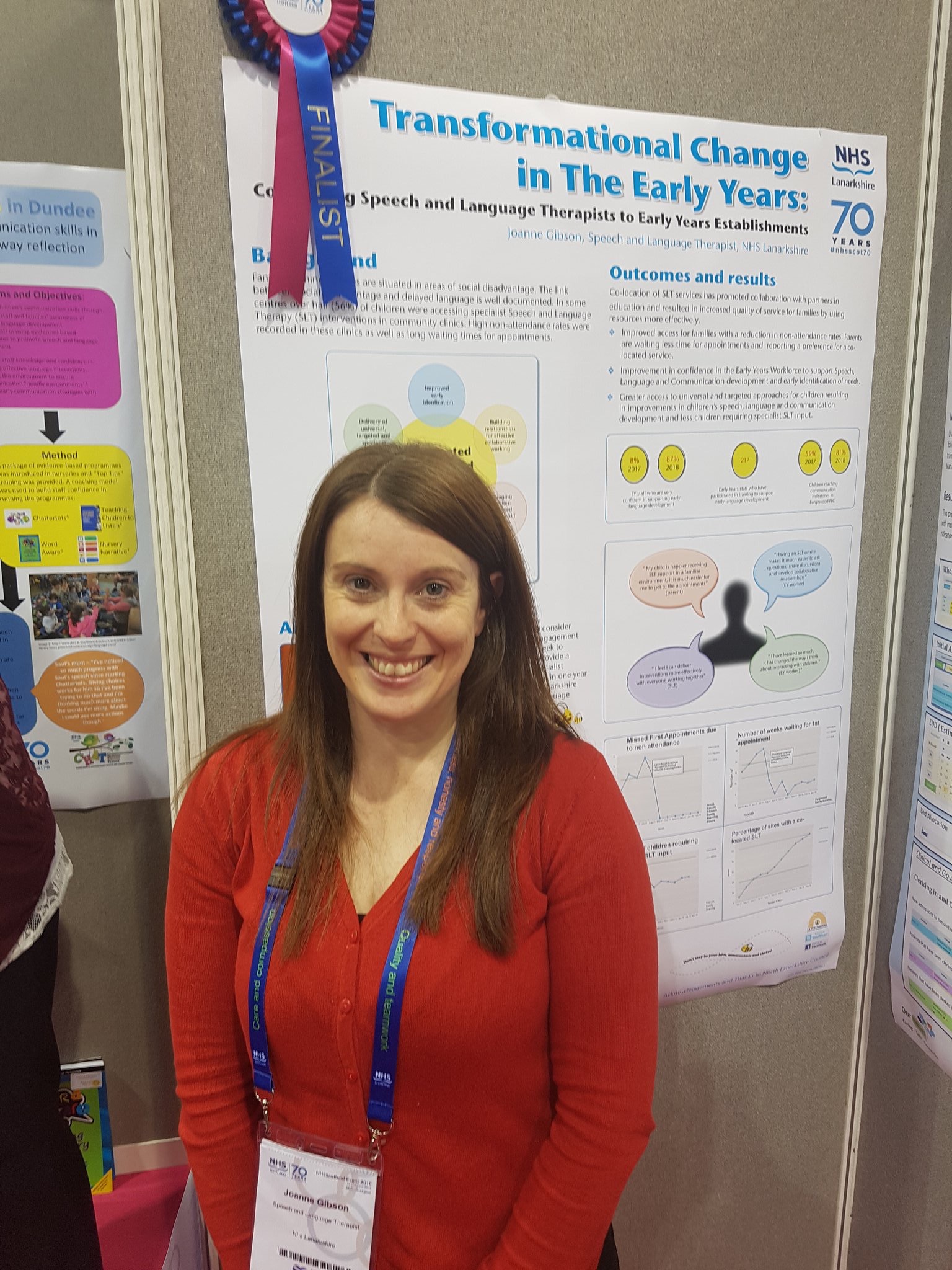 The power of partnership has been recognised at national showcase event.
NHS Lanarkshire scooped three awards at a national NHS poster exhibition held this week (18 & 19 June) in Glasgow, as part of the annual NHSScotland Event.
The event provides an opportunity for those working in the NHS in Scotland to come together to consider challenges and to share best practice and innovative approaches to delivering the highest quality of care for patients.
With seven categories, the poster exhibition forms an integral part of best practice, learning and sharing at the event. This year's exhibition featured 200 projects, set out in poster form, from 14 Scottish health boards and partner organisations.
NHS Lanarkshire speech and language therapist, Joanne Gibson, was a double winner with her poster 'Transformational Change in the Early Years: Co-locating Speech and Language Therapists to Early Years Establishments'. Joanne's poster not only won in the Quality of Care: Infrastructure category but also received the Transformational Change Award.
The Veterans First Point (V1P) Lanarkshire team poster 'Veterans First Point Lanarkshire: Pioneering a unique NHS and Third Sector Partnership' was the winner in the Integrated Care category.
The team, led by Dr Maria Gascon, consultant psychologist, was recognised for its partnership approach to improving the health and well-being of veterans and their families in Lanarkshire and beyond, with a particular focus on veterans with complex needs.
The posters can be viewed at http://nhsscotlandevent.com/posters/2018-posters-display
South Lanarkshire Health and Social Care Partnership presented a showcase session at the event on the innovative continence care pilot which has markedly improved the lives of people in some Lanarkshire care homes.
Research has identified incontinence as a risk factor that increases skin damage, infection and falls in older people. The project has led to improvements including a reduction in falls by 65%, urinary infections being halved and skin damage reduced by one third. The project has also significantly reduced the amount of continence pads used at the homes.
The pilot was developed by teams in and North and South Lanarkshire's Health and Social Care Partnerships, NHS Lanarkshire and NHS National Services Scotland and work is underway to explore rolling the project out across Lanarkshire.
Calum Campbell, NHS Lanarkshire chief executive, said: "Congratulations to our two poster winners and to the continence care project which was shortlisted from many submissions to present at the event.
"This work evidences the commitment of our employees and the innovative approaches being taken in Lanarkshire to transform and improve the way we provide health care, ensuring it's fit for the future, in line with the Scottish Government's 2020 vision."