Latest News
Partner Update: VASLan 6th Annual General Meeting
Published: Friday, 10 November 2017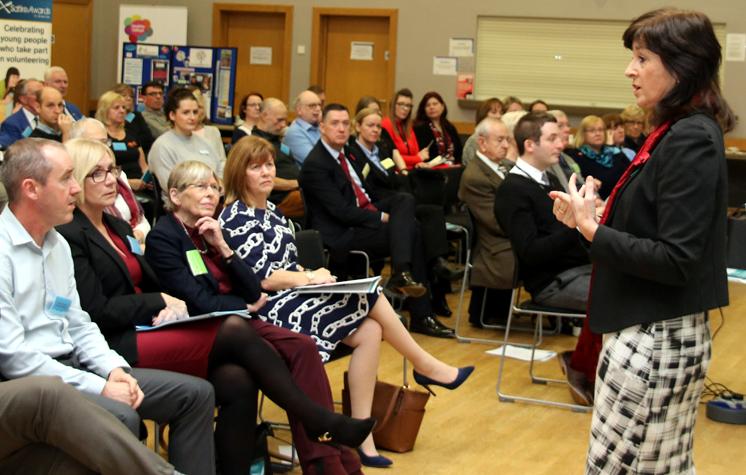 VASLan hold their 6th Annual General Meeting
Third sector representatives and members of the community gathered at Fernhill Community Centre in Rutherglen for the Voluntary Action South Lanarkshire (VASLan) AGM.
As the Third Sector Interface for South Lanarkshire VASLan's mission is "to shape, strengthen and serve a strong, vibrant, empowered and inclusive volunteering community and Third Sector in South Lanarkshire."
Nearly 70 people attended, allowing the organisation to showcase the progress they have made over the past year. The AGM provided the ideal opportunity for VASLan to launch their new Strategic Plan for 2017-2020. This document reflects their aspirations to support the continuous development and improvement of VASLan and the Third Sector in South Lanarkshire. Through engagement, promotion and involvement with communities and Third Sector organisations VASLan will achieve its mission.
VASLan will work in partnership with the third sector, with a clear focus of mobilising the sector in shaping local accountability and empowerment; facilitating, championing and challenging the power dynamics that the sector has to deal with.
Val de Souza, Director of Health and Social Care, South Lanarkshire Health and Social Care Partnership, gave a presentation to the AGM attendees and explained she was delighted to attend the event.
Ms de Souza added: "It's been greatly encouraging to see the launch of the VASLan Strategy and Annual Report. As the Third Sector Interface (TSI), VASLan are a key partner of our Health and Social Care Partnership. Consolidating and building that close working relationship will only ensure we can continue to realise our partnership's collective vision; working together to improve health and wellbeing in the community – with the community.
Ms de Souza continued: "We are committed to listening to people in communities. Our partnership is also focused, particularly coming into the winter, on working with the TSI to inform the public about the range of health and wellbeing supports and services that are in place in their local areas – and how the public can access primary, community and hospital care, when appropriate."
Five third sector organisations were also presented with Volunteer Friendly Awards, praising groups who support, recognise and reward groups who are good at involving volunteers.
Nicola Laffery, Volunteer Coordinator at Older and Active in East Kilbride (previously EK Shopmobility) explained how delighted the organisation was to receive the award: "Our Volunteer Friendly Award perfectly coincides with our name change and it shows how much we value our volunteers as we couldn't do without them."
Healthy Valleys were renewed with a Volunteer Friendly award. Kate Williamson, who is their Grassroots Volunteer Coordinator said: "We are very pleased to be at the VASLan AGM today and showcase the work that we do in the Clydesdale area. We are so chuffed about being renewed as a Volunteer Friendly organisation."
Trust Jack Foundation also received Volunteer Friendly status for the first time and Community Links and The Machan Trust were renewed with the award.
If you would like to find out more about VASLan and how they can help you please call 01698 300390 or email office@vaslan.org.uk . You can also like our Facebook page - @vasouthlanarkshire – and follow our Twitter - @VA_SLAN.