Latest News
Partnership efforts to improve lives of children and young families recognised
Published: Monday, 26 November 2018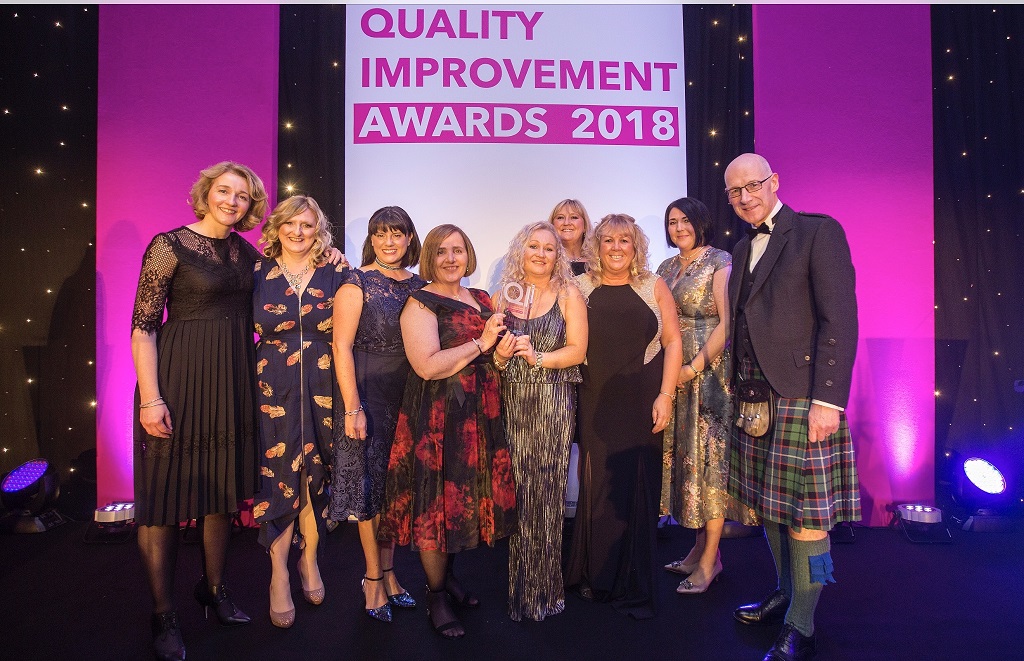 Partnership efforts set national standard.
The commitment of health, social care staff and other partners to improving support for children and young families in South Lanarkshire has been recognised at a national award ceremony.
An innovative project to address speech and language inequalities won their category at the Scottish Government's prestigious Quality Improvement Awards 2018. Collaborative efforts to tackle child poverty and a pioneering partnership project to reduce infant exposure to second hand smoke also made the shortlist, chosen from hundreds of entries, for the showcase event.
The respective projects have been delivered by South Lanarkshire Health and Social Care Partnership (SLHSCP) staff, in close conjunction with South Lanarkshire Council Education Resources.
Maria Reid, SLHSCP's Head of Health Improvement, said the three initiatives, led by South Lanarkshire Community Planning Partnership, were unified by two key factors.
"Firstly, these projects were all, at the very core, driven to ensure every child has the best possible start in life and can reach their full potential growing up," explained Ms Reid.
"Secondly, and what's crucially important, is that these projects combined the passion, expertise and knowledge of a spectrum of professionals and partners, all driving towards a shared goal."
• The winning project, Breaking the intergenerational cycle of speech, language and communication deficit for children and young people, addressed a common challenge. Across Lanarkshire, speech, language and communication need is identified as the most prominent inequality affecting children's development. The Carluke Health Visiting team and Speech and Language Therapy services, supported by an improvement coordinator and advisor, used improvement methods, working alongside parents and children, to tackle the issue at the earliest possible stage. The work resulted in a reduction of initial referral to the specialist support service by over 25%.
The other two shortlisted finalists had similarly marked results:
• 'Child Poverty: Optimising uptake of money advice and income among families with children 0-5 years' responded to increasing trends of child poverty. Health Visiting teams and South Lanarkshire Council Money Matters Advice Service (MMAS) provided a proactive approach by routinely enquiring if young families were experiencing money worries. The impact demonstrated over a 30% increase in monthly referrals with 77% of families engaging with MMAS.
• Families and health visiting teams in East Kilbride, along with the Tobacco Control Team set out to reduce the exposure to second-hand smoke in new babies. With consistent key messages delivered by health visitors and family lifestyle adjustments, the team exceeded their aim and achieved a 21% reduction in infants being exposed to second-hand smoke.
Val de Souza, Director of Health and Social Care, for SLHSCP said: "These projects have set a benchmark of best practice and will be used as reference point as we seek to address these wider issues to forge a better future for our children.
"The awards are testament to all organisations, partners and individuals involved and committed to ensuring our young people can lead healthy, happy lives."