Latest News
Trailblazers lead the way at heart of health and social care
Published: Friday, 22 February 2019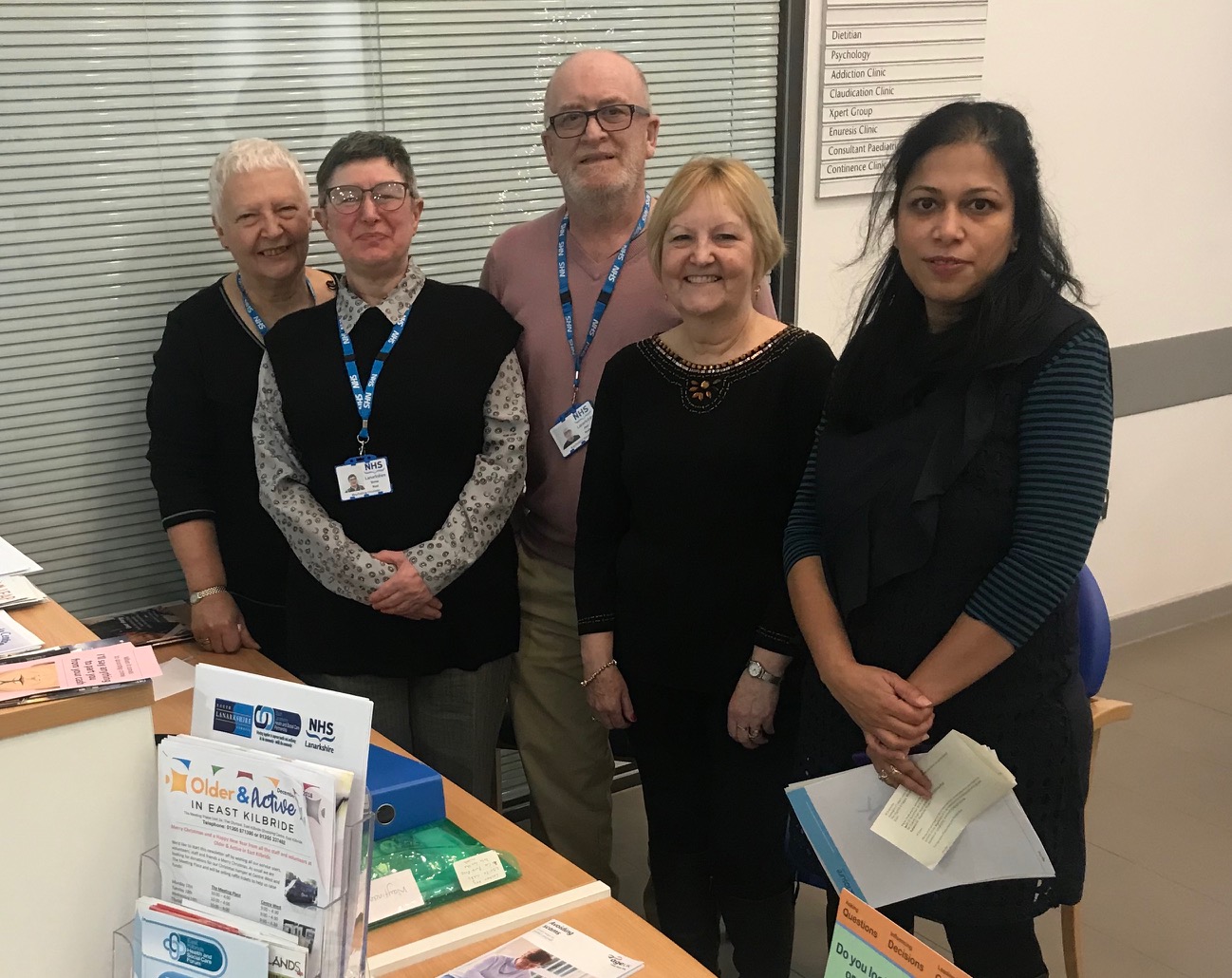 A small band of volunteers are offering a trailblazing service at the heart of health and social care.
The Wayfinders - based in Hunter Community Health Centre in East Kilbride – are tasked with welcoming and helping patients and visitors find their way in the five storey, state of the art facility.
Opened in 2016, the £19.6 million community health building houses a wide range of primary care and other community-based services, all under one roof. This includes six GP practices, a general dental practice and a broad range of clinics.
Dr Nadia Ait-Hocine, Locality Manager for East Kilbride, explained that the Wayfinding Project – which has come into sharp focus in a short film: https://vimeo.com/308430043 - is about community involvement at the frontline of health and care provision. It also personifies the essence of South Lanarkshire Health and Social Care Partnership's vision.
"Working together to improve health and wellbeing in the community – with the community, is at the heart of everything we do," explained Dr Ait-Hocine.
"This is a wonderful example of how individuals within the community can contribute in partnership with Health and Social Care staff to make a real difference for the people of East Kilbride. We are committed to support this development's continued growth and development "
The Wayfinders project was set up and instigated by the East Kilbride Health and Social Care Forum in 2018, an independent group of community volunteers working closely with the Health and Social Care Partnership.
Volunteers are given a detailed induction and receive ongoing training. As well as offering directions, the Wayfinders' main tasks include providing a friendly and welcoming atmosphere to patients and visitors arriving and explaining the resources and services available to the public in the building.
Wayfinder volunteer Sonia Reid, who is also Chair of the East Kilbride Health and Social Care Forum, explained: "Hunter Community Health Centre a large building on several floors.
"When someone is coming in, they may be a bit nervous, or they are unsure where to go, they can find themselves in the queue at reception where they just want instructions on which floor to go to and whether to report in.
"It actually helps the public to know there is a friendly face they can ask – without putting pressure on the reception staff who are dealing with a whole lot of other things at the same time."
Val de Souza, Director of Health and Social Care for South Lanarkshire Health and Social Care Partnership said: "The Wayfinders is a fine example of our Building and Celebrating Communities programme in action.
"BCC is about nurturing strength and building on community resource and support. That begins at grassroots level. The Wayfinders are community driven and community facing."
The Wayfinders are recruiting new volunteers now. If you can spare a few hours a week, have good communication and listening skills, please contact 01355 597467
Benefit of Wayfinders a two-way street.
A recent film has brought the work of the Wayfinders into sharp focus – and the reciprocal benefits of volunteering.
One of the film's stars, Wayfinder Betty Anderson, explained: "I lost my mum a few years ago and I felt there was a gap in my life. I felt I needed something to help me get my confidence back, because I just felt so down, so low.
"I came onto this group. I feel that's it really helped me immensely. It's helping me to communicate, be part of a team and I feel that if it makes a difference to someone else's life, it does that for me as well."