Val's blog

Val's blog - July 2020
A recipe for success in the new normal
The story of Mr T - as featured on our website - is a timely one.
The charismatic chef (real name Tuoyo Ayiku) has cooked up a storm of kindness in Larkhall by providing thousands of free African meals to vulnerable residents. Mr T has not only tantalised taste buds, his colourful cooking video attracted acclaim on social media as well as a freshly published motion in the Scottish Parliament.
And it got me thinking about the key ingredients that make his efforts so compelling.....
There's community. There's cohesion. There's commitment. There's creativity. And there is compassion - by the ladle load. And I strongly suspect Mr T's happy-go-luck demeanour belies a resilient, driven and tenacious core.
This chef and his fellow volunteers personify the notions behind our Building and Celebrating Communities programme. And, in many respects, these ingredients have reminded me about all the inherent qualities that are abundant in our overall partnership - all of you - and your general response to the Covid-19 pandemic.
And its these very ingredients that will be crucial as we go forward.
We are now entering a stage where a number of services are gradually starting to resume. Business is coming back - but its different to how it looked before.
One example, is how we have asked Lanarkshire residents to be aware of, and adhere to, the changes that are now in place at local GP practices. Practices are open and here to help. However, there have been a lot of changes - and these will be in place for the foreseeable future.
You can read more about these specific differences (including how most appointments will now be by telephone or our Near Me video consultation) on our website.
In another example you can see how our physiotherapy service will look going forward (and hear about the resilience and flexibility of staff during the pandemic.
Overall Covid-19 has had a huge impact on the people of Lanarkshire, our staff and our services. Many of these impacts continue and the recovery process will undoubtedly bring more challenges.
It will take time to recover safely. We realise how difficult this will be for our patients, service users and staff who desperately want to see services return as soon as possible.
But patience is another ingredient that will be vital going forward.
Our shared aim is to carefully build on the positive changes and innovative transformations that were achieved - while continuing to focus on safety and exemplary delivery of service.
A key part that will be recovering services in a fair and equitable way, working alongside and harnessing the power, creativity and resilience in our communities.
When we have been through much - with so much to do - it may seem like a fairly complex and heady broth right now.
But I am confident if we keep focusing and applying the aforementioned ingredients, with that generous dash of patience, we have a ready-made recipe for success in our new normal.
Thank you for reading
Val de Souza
Director of Health and Social Care
South Lanarkshire Health and Social Care Partnership
Val's Open Door Session
You can connect with Val for her next open door session on Teams. You can book a 15 minute slot on Wednesday 5 August between 3pm and 4.30pm by calling 01698 453700 or email Val's office
News Updates
A note of gratitude to care home heroes on care home day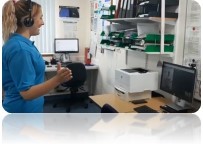 Today, Wednesday 15 July 2020, marks Care Home Day. In a special video message, Val passes on her gratitude and sincere thanks to care home staff and residents.
Support for you
Covid-19 has changed out lives, both at work and at home. While you work to support other people during this time, we know that you still have to deal with everday challenges in your personal life and home life. Support is available at the National Wellbeing Hub.
There are also a number of websites, listed below, with information on looking after mental health. Please take a look at these and the up-to-date information sent out in regular staff briefings. They are there to help you too. A telephone line for stress support has also been opened by Salus. Contact 0808 281 9288. Lines open from 9am-7pm, Monday to Sunday.
If you have a story you'd like to share in Val's blog please get in touch by either phone: 07917041853 or email us.