Latest News
Norwegian Visit showcases how Lanarkshire is delivering realistic medicine
Published: Wednesday, 29 January 2020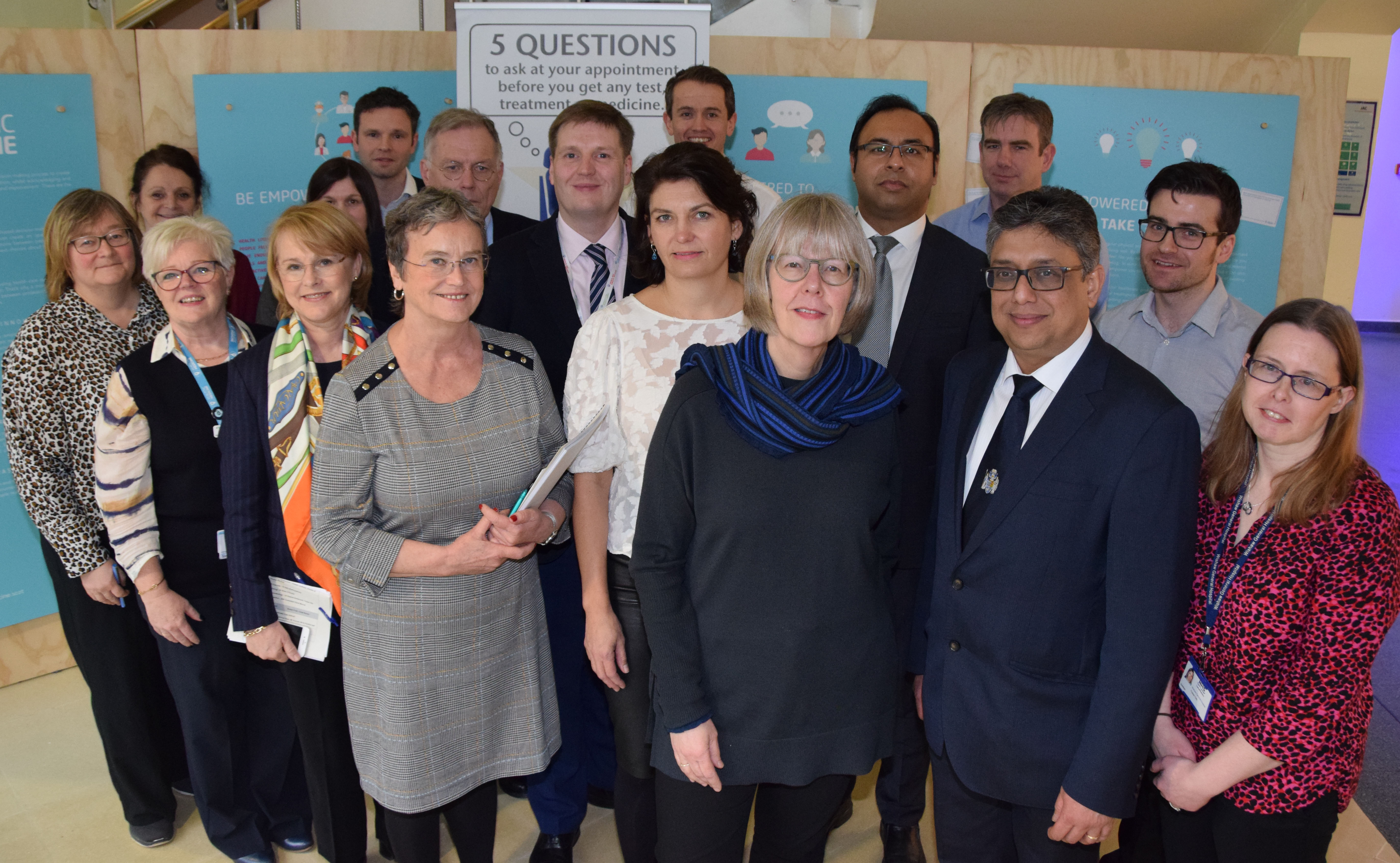 NHS Lanarkshire recently welcomed a delegation from the Norwegian Ministry of Health to University Hospital Hairmyres
NHS Lanarkshire recently welcomed a delegation from the Norwegian Ministry of Health to University Hospital Hairmyres to showcase the health board's leading work in implementing realistic medicine policies.
Realistic medicine is a national approach to healthcare that puts patients at the centre of decision-making about their treatment. It provides a tailored and personalised approach that focuses on the patient as whole – not just the condition(s) they are dealing with – and gives them the power to influence their own treatment plans.
Norway's State Secretary of Health and Care Services, Anne Grethe Erlandsen, led the delegation that visited Hairmyres as part of a two-day visit to Scotland.
During the visit, State Secretary Erlandsen and fellow State Secretary Inger Klippen met with NHS Lanarkshire's Clinical Lead for Realistic Medicine, Dr Babu Mukhopadhyay, and colleagues who have been putting the innovative realistic medicine approach into practice.
Positive developments include the introduction of a five question template – known as 5Qs – which is shared with all new hospital outpatients and is being rolled out in local communities. The 5Qs encourage patients to ask five key questions when discussing treatment options with their healthcare professional, helping them make an informed decision about what the best option is for them as an individual.
The 5Qs are:
1. NEED – Do I really need this test, treatment or medicine?
2. BENEFIT – What are the benefits to me?
3. RISK – Are there any risks or side effects?
4. CHANGE – How can I improve my condition or health?
5. IF I DON'T – What will happen if I don't do anything?
Using the realistic medicine approach has also helped deliver practical benefits for NHS Lanarkshire and its patients such as improving rates of procedures like tonsillectomies and reducing waiting times in gastroenterology.
Dr Mukhopadhyay said: "It was a pleasure to welcome the State Secretary and her colleagues to University Hospital Hairmyres and share our realistic medicine journey with them. This is an approach that not only transforms how we engage with our patients, but genuinely gives them the power to make the healthcare decisions that influence their daily lives.
"It's about healthcare professionals and patients working together, having meaningful discussions that consider what matters most to patients, being realistic about what we can and can't achieve, and delivering the healthcare options that fit with patients' individual lives and preferences.
"By doing this, we can deliver an efficient and effective healthcare service that not only focuses on the person, but also makes the best use of the resources available. I'm sure our Norwegian guests found the visit to Hairmyres both informative and inspiring, and a great example of how we're keeping medicine real here in NHS Lanarkshire."
Picture shows Norwegian Secretaries of Health and Social Care Services Inger Kippen and Anne Grethe Erlandsen with NHS Lanarkshire's Clinical Lead for Realistic Medicine, Dr Babu Mukopadhyay and colleagues.