Home
News
"When can I go home?" Partnership hospital programme providing answers to fundamental question
Latest News
"When can I go home?" Partnership hospital programme providing answers to fundamental question
Published: Friday, 17 December 2021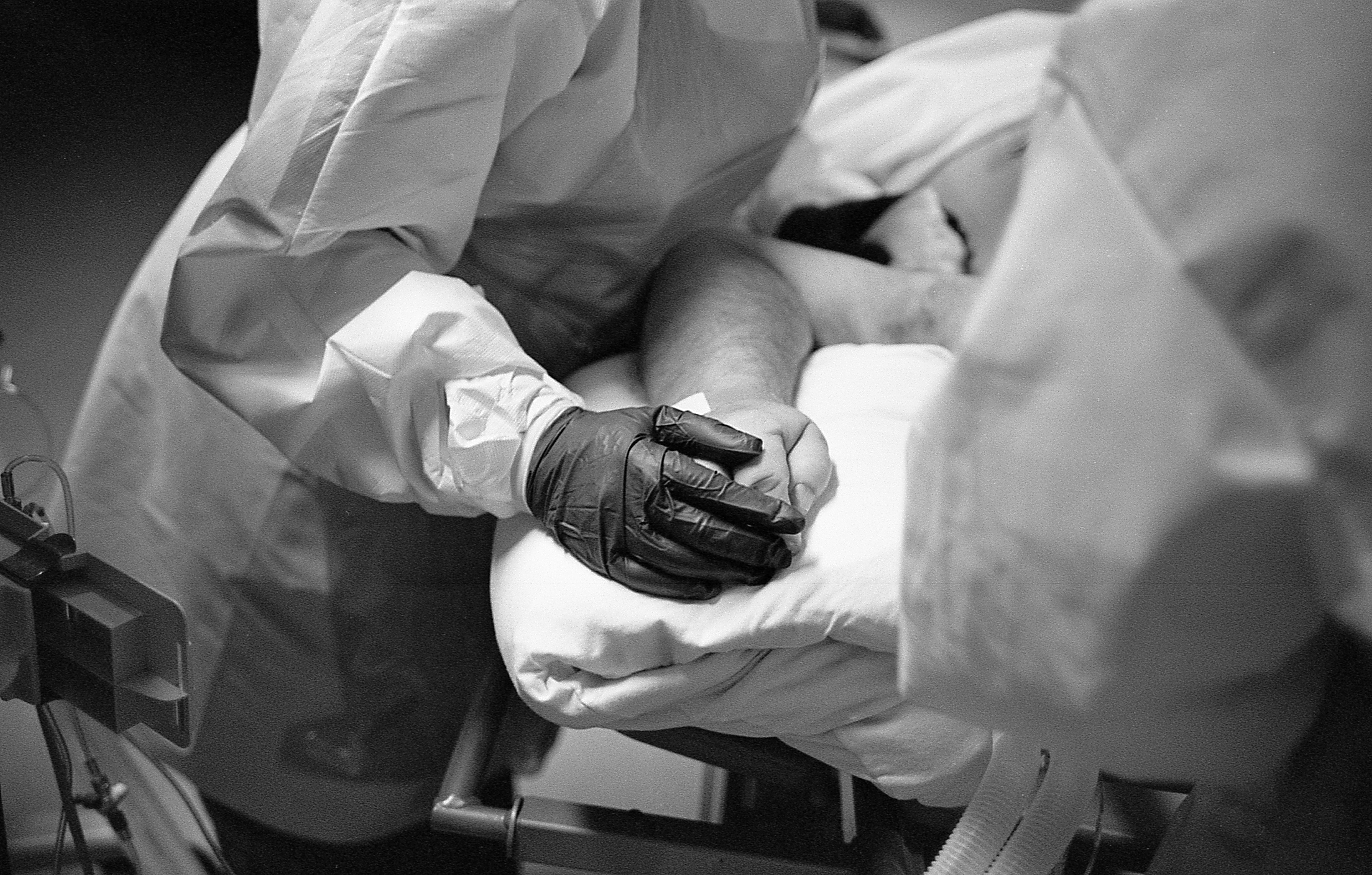 PDD epitomises good, safe patient care based on a human touch. Photograph from BBC News at bbc.co.uk/news
A programme based on providing clear answers to a fundamental patient question has gone live in NHS Lanarkshire's three hospitals.
The Planned Date of Discharge (PDD) programme aims to establish a clear date of when someone will go home (or to a community setting) – at the earliest possible stage during their stay in hospital. By providing a clear route-map through the hospital 'journey', PDD is geared to reducing any uncertainty and anxiety.
The programme, which has also seen a substantial reduction in delayed discharge rates in the pilot phase, is now live in University Hospitals Wishaw, Monklands and Hairmyres. Figures presented to South Lanarkshire's Integration Joint Board in December 2020 outlined a 60 per cent reduction in people who experienced a delay in getting home, compared to the previous year.
"We appreciate that coming into hospital for an operation or procedure can often feel like the beginning of a daunting and complicated journey," explained Soumen Sengupta, director of health and social care for South Lanarkshire.
"When people are admitted, regardless of the reason for that admission, the first question invariably asked is 'when can I go home?'"
"In any other major event in life, whether it be building a house or embarking on a long journey, we always set out with the end result, or destination, clearly established.
"PDD works on precisely the same basic principle and caters for that fundamental human need – for a person to know when they can go home, to return to loved ones or those close to them."
Marianne Hayward, head of health and care, South Lanarkshire Health and Social Care Partnership, who is leading the multi-agency rollout of PDD across Lanarkshire, added: "We know from feedback that having as much certainty as possible about when a person is able to be discharged is really beneficial, both for the patient and their carers and/or family.
"The key feature of PDD is multidisciplinary teams of health and care professionals working together with hospital staff and looking at discharge planning with the patient and family. A planned date of discharge is identified at the earliest opportunity, sometimes on admission."
As part of the PDD process the patient's existing social care arrangements, and any potential and necessary changes to this, are taken into consideration by the team to jointly plan and agree a safe and appropriate transition back home.
Judith Park, director of acute services, NHS Lanarkshire, said: "In many ways this is not a new idea. What we have introduced now is an improved system of working, with smoother, more seamless links between NHS staff, the hospital-based social care workers and the community teams. Our dialogue with families, carers, and of course the patient, is also key.
"Partnership, collaborative working and communication is the simple but really effective foundation of this programme."
As well as benefits for the patients, a PDD pilot programme, which was instigated in University Hospital Hairmyres, led to a sustained drop in delayed discharges from hospital.
Ms Park added: "The efforts of our staff, coming together from a variety of disciplines and their commitment to finding solutions has shown the potential to create vital capacity when we need it - as well as marked benefits for the patient and their families."
Ross McGuffie, chief officer of Health and Social Care North Lanarkshire, said: "This is an exemplar of health and social care services working closely together, across Lanarkshire and across disciplines. PDD epitomises the commitment of our staff and partners to good, safe patient care - based on a human touch."
PDD programme shaped on patient and carer experience
The PDD programme in Lanarkshire was developed in close partnership with a range of stakeholders including carer organisations, patient advocacy groups and organisations representing specific care groups including those with Mental Health challenges.
Thomas Moan, development worker of Partnership for Change, an independent forum for effective service user and carer involvement, is the chairperson of a stakeholder engagement working group, focussing on PDD.
Thomas said: "There has been a real commitment to developing the new approach to discharge planning with those who will be directly affected by it, namely patients and their families and carers.
"We continue to work extremely closely with partners to ensure this approach continues to be guided by the experience and feedback of those in receipt of health and social care – and that the patient and their family are at the heart of the discharge planning process."
Margaret Moncrieff, a community representative and member of the multi-agency steering group which has implemented PDD, said: "Being a valued member of this group has ensured patient and carers' voices have influenced this important process.
"There has been a lot of work involved in the launch – but PDD is based on simplicity and ensuring patients and carers have absolute clarity about the steps ahead of them when they enter the hospital."