Group visits to Calderglen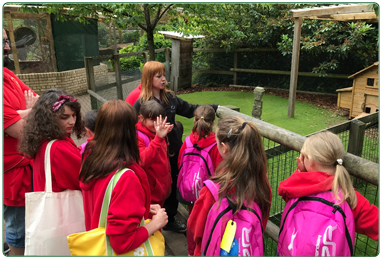 If you are a school, nursery or community group looking to visit Calderglen, we have a range of visit types on offer.
Self-guided visits
If you are looking to book a self-guided visit to the zoo with your group, then please complete the online booking form and select "Self-Guided Visit".
For self-guided visits, children are charged the standard admission price, nursery and school staff enter at no cost. Please note that accompanying helpers and parents will be charged the full adult admission cost. We do not have any areas that can be reserved for lunch, there is only one sheltered area, which is first come first served for groups and members of the public.
Current admission costs are £2.00 per adult, £1.00 for children and no cost for children under 3 years old.
Please bring a copy of your confirmation email on the day of the visit.
Group education sessions
These are available on weekdays only and need to be booked in advance. The cost of these sessions includes all staff and child admission into the zoo and conservatory. These sessions are specifically aimed at education and community groups.
Please note that your visit is not confirmed until you receive the confirmation email from us (this could take up to seven days).
Please note that we do not have any areas that can be reserved for lunch. There is only one sheltered area, which is on a first come first served basis, for groups and members of the public.
Animal experience
Duration: 40 minutes to 1 hour
Times: 10:30am and 12:30pm
Cost: £60.00 per group (admissions included)
Group size: 10 to 30 Children
Age range: 5 years and over
Location: Indoor
Our Animal experience gives children the chance to get up-close with some of our friendliest animals, such as rabbits, lizards and snakes. We have found that this is especially great for younger children and groups with additional support needs. For groups above 15 children, the session will be split into two half hour encounters where half the group can explore the zoo while half sit for the experience and then swap over. This will ensure an exciting and fun session is experienced fully by every child.
While the individual animals may vary from experience to experience, we will provide a variety of interesting species.
Share this page