Exhibitions, Events and Activities
---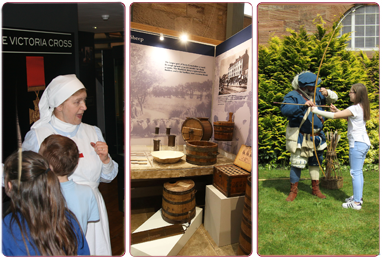 In addition to our core displays and changing temporary exhibitions, we offer many activities and events within Low Parks Museum.
Exhibitions
Our current exhibitions or displays:
Going to the Pictures - We are excited to welcome a @NationalLibraryOfScotland touring exhibition. Open from Saturday 21st of January until March, this free exhibition of display panels tells the story of Scotland's memories of cinema held at the National Library. There is also a handling case with objects relating to the exhibition for some hands-on fun and film footage to view.
Harry Lauder - A Recognised Collection. A mini display of some of the iconic items from our recent nationally awarded collection. A taster of the major exhibition coming in 2023. Further information is available on the Museums Galleries Scotland website.
Rutherglen Ladies FC - now until 12 March 2023. Women's football is thought to be a modern development, in fact women have been playing football for over 100 years. Recent research has uncovered the forgotten story of Rutherglen Ladies FC and their battle against the odds just to play matches, as attitudes towards women's football became increasingly hostile.
The exhibition tells the story of the team from its foundation in 1921 to disbandment in 1939; exploring the lives of the manager J.H. Kelly and the players and their ground-breaking tours in Scotland, England and Ireland.
Activities
Full Steam Ahead!
1 - 2 April 2023
10:00am-5:00pm Saturday, 12:00pm-5:00pm Sunday
Free admission
Strathaven's "Wee Train" as it is fondly referred to by locals, is now the oldest continuously running miniature railway in Scotland, with passenger hauling trains running from 14th May 1949.
Low Parks Museum was proud to support Strathaven Miniature Railway with a "tour" to Hamilton to celebrate 70 years of steam in the park during 2019 when visitors enjoyed the temporary track set up in the museum courtyard, with steam and electric engines running throughout an entire weekend.
Join us over the first weekend in April, when we look forward to welcoming the wee train back to Hamilton. Additionally, we're pleased to support Strathaven Model Society in its other endeavours and will see our Assembly Room transformed with a large Lego city installation to celebrate all kinds of model making and complement our own models: make sure you seek out the Mausoleum, The Museum and the RMS Queen Mary among our displays!
Easter Activities
Inspired by the season, and our forthcoming exhibition on Sir Harry Lauder, our Easter holiday programme has something to suit all tastes, ages, and abilities. Hop on down!
All activities are suitable for age 3yrs upwards, and all children must be accompanied by a responsible adult at all times during activities.
There will be two sessions daily. Drop in between 10:30am - 12:30pm or 1:30pm - 3:30pm.
Activity costs are £1.55 and £2.60* per child.
Monday 3 April - Handprint Bunnies
Craft a bunny and have fun decorating it.
Tuesday 4 April - Spring Sun Catchers
Using special glass pens, we'll decorate our spring themed suncatchers.
Wednesday 5 April - Harry's Tartan Doodahs - Make a silly sporran
Sir Harry's characters had brilliant costumes and his most famous had a spectacular sporran. Using an array of craft materials, let's make a sporran fit for the stage!
Thursday 6 April - Egg Marbling
Let's learn how to use marbling inks to decorate our Easter eggs (not the chocolate ones!)
Friday 7 - Monday 10 April - Easter Bunny Trail
Find the bunnies hiding around the museum!
Tuesday 11 April - Harry's Tartan Doodahs - Wobbly Walking Sticks
One of the most famous features of Sir Harry's characters was the twisted walking stick he used. We're making our own wonky walking sticks and learning some of Harry's songs.
Wednesday 12 April - Bunny Face Masks
Decorate a spring themed mask using an array of craft materials.
Thursday 13 April - Harry's Tartan Doodahs - Tartan Wristbands
Learn about your own tartan and / or design one for yourself.
Friday 14 April - Spring Ceramics*
Inspired by Clarice Cliff's bold designs, we're decorating our own ceramics.
Heritage Trail
A walking and cycling route between two of South Lanarkshire's most prestigious historic buildings enhanced to provide an opportunity for everyone to enjoy and engage with their local heritage and landscape, while benefitting their health and wellbeing.
The app called "Chatelherault to Low Parks Heritage Trail" (a free download from Google Play or the App Store, depending on your device) details and tracks your route while providing heritage content along the way. Learn key facts about the landscape's history and enjoy archive images and historic footage to enhance your experience.
Finish off with a leisurely wander around the museum, a browse in the shop or visit the café for a spot of something lovely! This route can be reversed, Chatelherault's shop and café are also well worth a visit!
The project has been funded by Smarter Choices, Smarter Places – Paths for All's grant scheme to support behavioural change initiatives to improve people's lives.
Mausoleum tours
When conditions permit, we offer entertaining and very informative tours of Hamilton Mausoleum.
Share this page
Low Parks museum has gallery displays exploring life in South Lanarkshire and a gallery dedicated to the story of the Cameronians (Scottish Rifles).

Highlighted items on current exhibition at Low Parks Museum, Hamilton

At South Lanarkshire Leisure and Culture we are developing our online catalogue so that as much of the collections are available as possible.