Exhibitions, Events and Activities
---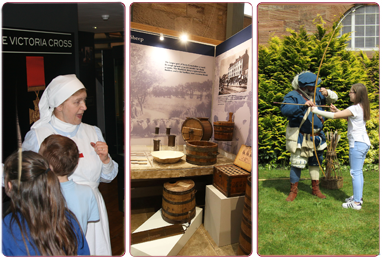 In addition to our core displays and changing temporary exhibitions, we offer many activities and events within Low Parks Museum.
Our current exhibitions or displays:
Landscapes - until mid January 2022. Tom Hutcheson's "Earth Day Lanarkshire" is on display alongside a collection of inspired original pieces, the culmination of our project in partnership with Glasgow Print Studio, brought together professional artists and young people using Lanarkshire's urban and rural landscapes as inspiration.
Now showing - Glasgow Incorporation of Architects 'Hamilton Mausoleum Design Competition'.
VJ Day 75th Anniversary - the true cost, soldier's stories.
Music in the Museum
Following on from previous musical successes, Low Parks Museum in Hamilton looks forward to presenting an entire season of live classical music for your entertainment and enjoyment. Our elegant 18th century Assembly room will once again play host to a wide range of professional classical soloists and groups whose virtuosic performances will charm and delight, courtesy of Classical Musicians Scotland.
With only six dates in 2022, the Assembly Room will be filled with beautiful music, as it was intended. Won't you join us?
Tickets will be going on sale soon at SLLC online box office.
The Antonine Trio
18 February 2022
The Antonine Trio are Steven Faughey, baritone, with Sue Baxendale on french horn and Derek Clark on piano.
In February Low Parks looks forward to welcoming The Antonine Trio, performing a wide variety of music, ranging from Mozart and Strauss through to new contemporary commissions, theatre pieces, traditional folk melodies, and even Flanders and Swann! They love to get to know their audience, introducing their music with historical and musical detail and fascinating anecdotes.
Tamas Fejes and Heather Makar
16 April 2022
In April Low Parks looks forward to welcoming violinist Tamas Fejes, ably accompanied by pianist Heather Makar. Tamas was a member of the Philharmonia Orchestra in London. He is currently the assistant leader of the Royal Scottish National Orchestra and part-time tutor in the Royal Conservatoire of Scotland. His repertoire includes all the major violin concertos, from baroque to 20th century. At the end of 2016, he recorded Bach's complete Sonatas and Partitas for unaccompanied violin, released under Discovery Music and Vision label, and launched the CD in two performances at the RSNO centre to huge acclaim.
Andrea Gajic
18 June 2022
In June, Low Parks looks forward to welcoming violinist Andrea Gajic.
From 1990, Andrea studied for five years at the Gnessin Russian Academy of Music in Moscow with Khalida Akhtiamova where she gained her Masters Degree and Diploma in Solo Performance, before continuing her post-graduate studies with Felix Andrievsky at The Royal College of Music in London. Andrea currently teaches violin at the Royal Conservatoire of Scotland in Glasgow and St Mary's Music School in Edinburgh. She plays on a violin made by Nicolaus Gagliano in 1766.
Edward Cohen
12 August 2022
In August Low Parks looks forward to welcoming pianist Edward Cohen
Edward is a first-class graduate of the Royal Academy of Music where he was a prize-winning student. Edward is the pianist for the chorus and junior chorus of the Royal Scottish National Orchestra, and he has worked regularly with the Edinburgh Festival Chorus, the National Youth Choir of Scotland, and the Scottish Chamber Orchestra Chorus. A keen chamber musician, he frequently performs with the Artisan and Beinn Artair Trios, the Barony and Red Note Ensembles, Daniel's Beard, and Scozzesi.
Anna Debowska and Marcin Jaroszek
14 October 2022
Anna Debowska, piano and Marcin Jaroszek of The Jane Stirling Project
In October Low Parks looks forward to welcoming back the virtuosic musical talent of Anna Debowska along with the fascinating oration of Marcin Jaroszek. They bring to life the research of The Jane Stirling Project, named after the little-known pupil, benefactor and confident of Frederic Chopin. This evening will feature a restaging of one of Chopin's original concerts accompanied by a fascinating multimedia presentation.
Feargus Hetherington and Geoffrey Tanti
12 November 2022
In November, Low Parks looks forward to welcoming violinist Feargus Hetherington and pianist Geoffrey Tanti.
Violinist/violist Feargus Hetherington has developed a wide-ranging career as an orchestral and chamber musician, concert artist and teacher. He studied at the Royal Conservatoire of Scotland and the Cleveland Institute of Music, USA, and has worked with some of today's great performers
Geoffrey Tanti is a pianist and repetiteur based in Glasgow. Born in Malta, Geoffrey studied piano with Cynthia Turner before moving to the UK to study at the Royal Conservatoire of Scotland.
Together, they promise to present an exceptional night of music.
Heritage Trail
A walking and cycling route between two of South Lanarkshire's most prestigious historic buildings enhanced to provide an opportunity for everyone to enjoy and engage with their local heritage and landscape, while benefitting their health and wellbeing.
The app called "Chatelherault to Low Parks Heritage Trail" (a free download from Google Play or the App Store, depending on your device) details and tracks your route while providing heritage content along the way. Learn key facts about the landscape's history and enjoy archive images and historic footage to enhance your experience.
Finish off with a leisurely wander around the museum, a browse in the shop or visit the café for a spot of something lovely! (This route can be reversed, Chatelherault's shop & café are also well worth a visit!)
The project has been funded by Smarter Choices, Smarter Places – Paths for All's grant scheme to support behavioural change initiatives to improve people's lives.
Share this page
Low Parks museum has gallery displays exploring life in South Lanarkshire and a gallery dedicated to the story of the Cameronians (Scottish Rifles).

Highlighted items on current exhibition at Low Parks Museum, Hamilton

At South Lanarkshire Leisure and Culture we are developing our online catalogue so that as much of the collections are available as possible.