Conservatory and gift shop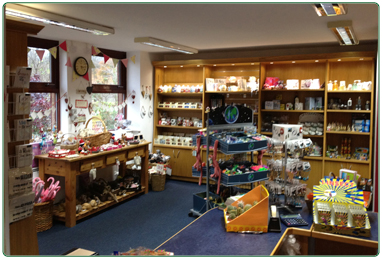 ---
Zoo and Conservatory opening hours
April - August: 10:00am - 5:30pm (last entry 5:00pm)
September - Mid-October: 10:00am - 5:00pm (last entry 4:30pm)
Mid-October - March: 10:00am - 4:00pm (last entry 3:30pm)
Entry into Zoo and Conservatory
Adults - £1.85
Children - 95p
Under 3's - Free
The conservatory
The conservatory is home to our tropical plant collection with plants and animals from all around the world. The plants are divided into the continents: South America, Africa, Australasia and Asia. There is also a large cactus collection along with a banana grove and interactive rainforest tree. Both our Animal Keepers and Horticultural staff run various events and activities throughout the year from the conservatory. It is the gateway to the ornamental gardens and zoo.
Calderglen conservatory talk and tour
At Calderglen conservatory we offer a choice of horticultural talks and tours. The talks can involve a guided tour of the conservatory and gardens highlighting facts from our plant collection. This includes economic importance of plants and their general everyday use. We can cover specific curriculum based topics and adapt talks and tours towards all ages and abilities. Pre and primary sessions can include a themed craft workshop to compliment the tour.
All talks and tours have a one off payment which includes entry fee for all to the conservatory and zoo.
Cost: £32.80
Please email us on calderglencountrypark@southlanarkshireleisure.co.uk and give details of your group, including contact person, address, telephone number and email address. Please also include the number of children and adults plus any additional needs.
Gift shop
Situated in the Conservatory, It is the first port of call for visitors to gain entry to the zoo and gardens and get information about the park. The gift shop is packed with a wide range of souvenirs, preserves, confectionery as well as pocket money gifts for children.
Please contact us for further information.

Share this page