Bowling
---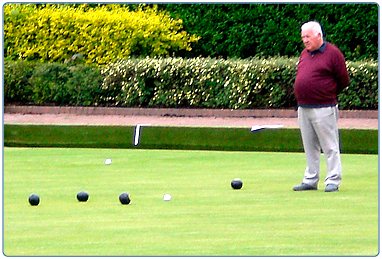 Across South Lanarkshire there are a number of bowling greens which are operated by local clubs. These clubs offer a pay to play facility if you only fancy a casual game of bowls.
Resident bowling clubs will be more than happy to accommodate everyone from first time bowlers to players returning to the game of bowls.
Visitors and New Members welcome.
Bowling Facilities managed by South Lanarkshire Leisure and Culture.

| Facility | Area | No of greens | Equipment hire available | Tel No |
| --- | --- | --- | --- | --- |
| Hamilton Palace sports Grounds | Hamilton | 2 x lawn/ 1 x synthetic | Yes | 01698 424101 |
| Lanark Thistle BC | Lanark | 1 x lawn | No | 01555 665137 |
| Carnwath BC | Carnwath | 1 x lawn | No | 01555 840986 |
| Forth BC | Forth | 1 x lawn | No | No club telephone |
| Carstairs BC | Carstairs | 1 x lawn | No | No club telephone |
| Abington BC | Abington | 1 x lawn | No | No club telephone |
| Tarbrax BC | Tarbrax | 1 x lawn | No | No club telephone |
| Red Deer BC | E. Kilbride | 2 x lawn | No | 01355 220460 |
| Brancumhall BC | E. Kilbride | 2 x lawn | Yes | 01355 224668 |
| Murray BC | E. Kilbride | 2 x lawn | Yes | 01355 221636 |
| Strathaven BC | Strathaven | 1 x lawn | Yes | 01357 521995 |
Share this page