Ice skating
---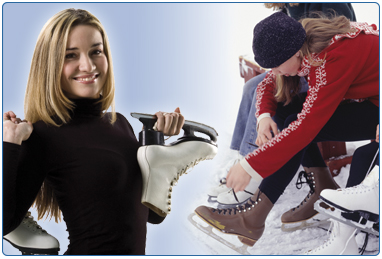 East Kilbride Ice Rink is operating Patch Ice, Learn to Skate and a limited number of public skating sessions. Check our prices and opening times.
General skating sessions
Suitable for any age and level of skater. Skate hire is available. Please note, under 8's must be accompanied by an adult on the ice.
Lockers are available at a cost of 20 pence (retained).
Skating aids cannot be pre-booked.
If you require any additional support, assistance or will be visiting the facility with a Carer, please contact the Ice Rink prior to placing your booking.
How to book
All sessions can be booked and paid online in advance. Walk in bookings cannot be guaranteed.
Please note: Online booking can only be made on an individual basis. It is not possible to place a group booking online.
Bookings can be made online on a first come first served basis. Every person attending the session must book a space and the name under the booking should match the attendee.
You require an online account to make a booking. You can join online. If you have an online account but have forgotten your password, click the "forgotten your PIN" link to reset. You may already have details on our system from attending classes in other SLLC leisure facilities. If you require assistance with your booking, please contact us.
If you need to cancel, are booking an Under 6 or would like to book for multiple people, you should contact us via telephone on 01355 223498.
Ice skating admission
Child 7 years and under
All children under the age of 8 must be accompanied by a responsible adult aged 16 or over on the ice.
A responsible adult over the age of 16 can accompany up to 2 children aged 7 or under on the ice.
Ice rink assessment and competency
Where competency is assessed and assured by a member of staff, children may be excluded from the admission ratios. Where it is identified that a child under the age of 8 requires more support from a parent/guardian, the ratio maybe reduced.
For more information, please contact the Ice Rink on 01355 223498
Learn to skate lessons
We deliver the Skate UK Learn To Skate Programme on a Sunday or Thursday evening for both school age children and adults and Snow Babies for pre-school children only on a Friday morning and afternoon. Please contact the facility directly for information regarding waiting lists and prices.
Share this page