Local history, heritage and family history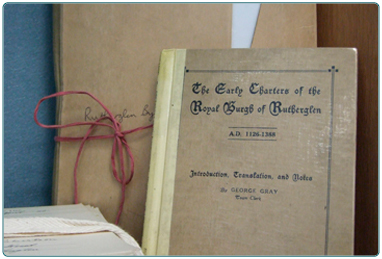 Our four main libraries, Hamilton Town House Library, East Kilbride Central Library, Rutherglen Library and Lanark Library all have family history and local history resources to help anyone interested in researching their family tree or researching the history of Lanarkshire and its parishes.
Our resources
Our collections include Old Parochial Registers (OPRs), census returns from 1841 to 1901, directories, local newspaper archives, electoral registers, valuation rolls, sasines and commissariat indexes, monumental inscriptions, burial records and county and burgh records. Apart from histories of Lanarkshire and surrounding parishes we have statistical accounts of all the parishes in Scotland.
Online resources include the International Genealogy Index (IGI), a free resource, Find My Past (a subscription site but free in our libraries), The British Newspaper Archive (free access on library PCs), and Scotland's People. There is a charge for using Scotland's People but credits can be purchased online to view and download records. You can access these services from home by following links above or in the library - all our libraries offer free wifi so in those locations you have the option of using your own wifi enabled laptop or smart device.
Help?
If you would like to attend an introductory course in researching your family history, contact East Kilbride Central Library, Lanark Library, Hamilton Town House Library or Rutherglen Library for more information. These courses are currently £3.80 / £1.95 / Free with Activage.
Reference staff in our libraries with family history and local history collections will help you get started and keep you on track.
Who to contact
Hamilton Town House Library, Reference Department, tel: 01698 452121
e-mail: hamilton.reference@library.s-lanark.org.uk
East Kilbride Central Library, Reference Department, tel: 01355 220046
e-mail: eastkilbride.reference@library.s-lanark.org.uk
Rutherglen Library, Reference Department, tel: 0141 643 1296
e-mail: rutherglen.reference@library.s-lanark.org.uk
Lanark Library, Reference Department, tel: 01555 661144
e-mail: lanark.ref@library.s-lanark.org.uk
Share this page