Café / gardens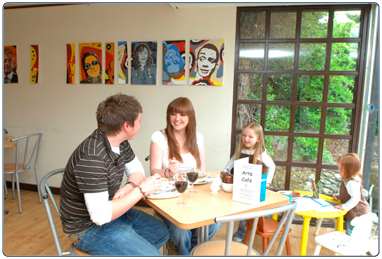 ---
The Arts Centre is well known for our welcoming and friendly café. It's the ideal place to meet friends for a bowl of our homemade soup or a coffee with a freshly made scone.
The café is open Monday - Saturday from 10:00am - 4:00pm (last food orders 3:30pm). Table service only.
Please browse our menu below. Reservations can be made through our box office on 01355 276666.
This table contains information on East Kilbride Arts Centre café menu
Menu item
Cost

Homemade soup
Take a look at our Specials board or ask your server for today's soup.

Soup and roll
Soup and sandwich


£3.50
£6.15

Sandwich / toastie
Served on brown or white bread with slaw and hand cooked crisps.

Ham with tomato or pickle or onion
BLT
Chicken mayo
Cheese savoury
Tuna with low fat mayo
Home made coleslaw
Cheddar cheese with pickle or tomato or onion

Extras


£3.60 / 4.80
£3.60 / 5.20
£3.60 / 5.20
£3.60 / 4.80
£3.60 / 4.80
£3.60 / 4.80
£3.15 / 4.80

£0.70

Rolls

Roll with butter
Lorne sausage
Bacon
Potato scone
Fried or scrambled egg

£0.70
£2.25
£2.30
£2.25
£2.25

Bread / toast

Petit pain with butter
Bread with butter
Toast, butter and jam
Scrambled egg and toast
Tea and toast
Coffee and toast

£0.75
£0.90
£1.50
£2.50
£2.35
£3.00

Children's meals
Price includes carton of fruit juice

Soup and half sandwich
Soup with bread and butter


£3.35
£2.10

Hot drinks
Alternative milk, soya or oat, available at no extra charge.

Pot / mug of tea
Herbal / fruit tea
Hot chocolate
Black coffee
Latte
Cappuccino
Mocha
Espresso
Extra shot


£1.75
£1.90
£2.70
£2.20 / 2.50
£2.50 / 2.70
£2.50 / 2.70
£2.50 / 2.70
£2.25
£0.35

Cold drinks

Orange juice
Apple juice
Still or sparkling water
Juice carton
Can
Glass of milk

£1.80
£1.80
£1.70
£1.00
£1.40
£1.35
Don't forget to ask about our bakery treats!
Food allergies and intolerances
Before ordering please speak to our staff about your requirements. We cannot guarantee all dishes are nut or nut trace free.
Share this page