All SLLC Fitness class descriptions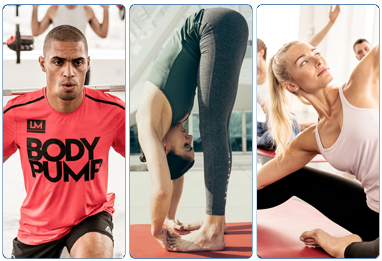 South Lanarkshire Leisure and Culture offer a range of fitness and weight loss classes across 22 leisure facilities. Sometimes it can be hard to remember what each fitness class has to offer you.
Below is the list of classes on offer and what the class can do for you.
Please note: Class participants must be 12 years or over with the exception of Body Pump which is 14 years or over. For indoor cycling participants should be 12 years or over and at least 4ft 11in/150cm.
---
50+ Exercise specifically targets the needs of older adults in a fun and challenging workout. It will boost cardiovascular fitness, muscular strength and endurance.
Abs is a short sharp class focusing on the muscles of the trunk, abdominals and lower back. It builds strength and stamina in those areas. Class content and style may vary between instructors. Suitable for all fitness levels.
Aquafit combines rhythmic and muscle conditioning exercises in shallow water. It helps to improve cardiovascular fitness and shape and tone your body. The support provided to the body by water reduces the risk of muscle and/or joint injury. Class content and style may vary between instructors. Suitable for all fitness levels.
Body Attack is the sports-inspired cardio workout for building strength and stamina. This high energy interval training class combines athletic aerobic movements with strength and stabilization exercises. Suitable for all fitness levels.
Body Balance combines Yoga, Tai Chi and Pilates to build flexibility and strength and leave you feeling centred and calm. It uses controlled breathing, concentration and a carefully structured series of stretches, moves and poses to music. This creates a holistic workout that brings the body into a state of harmony and balance.
Body Combat is the fiercely energetic cardio workout inspired by martial arts. It draws from a wide array of disciplines such as karate, boxing, taekwondo, tai chi and muay thai.
Body Conditioning combines cardio and resistance work to an energetic beat to work your whole body. With a range of exercise techniques that include aerobics, floor work, weights and resistance training, you are guaranteed a varied class.
Body Pump is the original barbell class that strengthens your entire body. This 60-minute workout challenges all your major muscle groups. It uses the best weight-room exercises like squats, presses, lifts and curls.
Bootcamp classes are a full body, physically challenging workout. Each class contains a mix of exercises including pull ups, push ups, squats, lunges and crunches – as well as drill and sprints. These classes vary between indoors and outdoors.
Boxercise is a high intensity, interval training class based on boxing training. From quick punches to fast feet, the moves will be sure to raise your heart rate.
Broadway Boogie is a high energy dance fitness workout inspired by Broadway and musical theatre. It is suitable for all fitness levels.
Cardio 1 & 2 is a referral only class aimed at improving cardiovascular fitness. It combines muscular strength and endurance exercises which make every day activities feel easier. Medical referral only.
Circle Dance is a fun, dance base class suitable for all fitness levels. In these classes you will learn traditional folk dances along with contemporary dances to traditional, classic and modern music.
Circuit Training is a full body athletic workout combining cardiovascular drills and strength, done in time specific intervals. It combines body weight and equipment exercises to improve cardiovascular fitness and challenges all major muscle groups. Class content and style may vary between instructors. Suitable for all fitness levels.
Club Circuit is a low to moderate intensity class using a combination of body weight exercises and equipment. It specifically focuses on improving posture, balance and lower limb strength.
Club Movers is a low to moderate intensity circuit workout. It specifically focuses on improving cardiovascular fitness, making every day activities feel easier.
Fitsteps is an energetic, upbeat dance class designed to achieve real, measurable fitness results. The dance workout mixes the graceful steps of Ballroom and the up-tempo steps of Latin dances. It creates fun-filled classes where you don't even realise you're getting fit! Transform your body and have fun dancing to music that will get your heart pumping!
HIIT is high intensity interval training that alternates periods of short intense anaerobic exercise with less intense recovery periods. An excellent way to maximize a workout in limited time.
HIIT Step is a 30 minute high intensity class using only bodyweight and a step. This fast-paced class with short, sharp bursts of work is a guaranteed all over body workout.
Indoor Cycling is high energy interval training on a modern stationery bike that is fully customizable to the user. You control tension or resistance on the bike to suit your fitness level and how challenging you want the workout. Class content and style may vary between instructors.
Kettlebells / Kettle HIIT is a series of athletic moves which burn fat and improve muscle tone and strength. Swing, clean and press your way to a leaner, more toned physique. One piece of equipment, one goal… and that's fat liberation. Suitable for all fitness levels.
L1FT workouts are designed to sculpt lean muscle using low weights including plates, dumbbells, barbells and high repetitions. During a class you will perform movements to build strength, increase muscle mass and tone your body.
Line Dancing is a fun way to get fit and learn some new moves. Triple step, applejack and pivot turn your way to fitness with line dances set to upbeat music. Beginner and novice classes available.
LBT is a Legs Bums and Tums workout focused on strengthening and toning the abdominal area, buttocks, hips and thighs. Class content and style may vary between instructors. Suitable for all fitness levels.
Metafit is a short sharp full body workout. Combining cardiovascular drills and strength done in time specific intervals, using body weight exercises. You will improve cardiovascular fitness as well as challenging all the major muscle groups for all round fitness gains. Suitable for all fitness levels.
Pilates is a series of gentle core exercises done either seated or lying on a mat. These build flexibility, but also strength, endurance, and whole body coordination.
Senior Circuits incorporates strength and balance training to keep your bones and muscles strong. Each class contains a series of exercises that can be modified to suit your own fitness level.
SH1FT is smart high intensity functional training for all fitness levels. Using only your bodyweight you will develop speed, balance and agility. You will build athletic fitness as you sweat through simple progressions.
Strength and Balance is a referral only class aimed at improving posture, strength and balance.
Stretch & Tone is a low impact, low intensity workout that will tone your muscles, increase your range of motion and flexibility, and help to relief stress. Through a series of stretching and toning exercises, you will develop breathing techniques to compliment this resistance training workout.
Tai Chi and Stretch is a blend of Tai Chi and some gentle stretching to balance the body's energy flow. It gives a sense of calm and wellbeing. It encourages the fullest range of motion around joints maintaining good mobility and muscle condition.
Totally Shredded Fitness is a combination of HIIT, combat, cardio and plyometric training.
Urban Rebounding is performed entirely on a unique, high quality, spring enhanced mini trampoline with a non-slip surface. The programme uses familiar aerobic moves, sports specific conditioning moves and core stabilization techniques to ensure a full body workout. It provides a surprisingly challenging cardiovascular workout without excess stress on the heart, muscles and joints. Suitable for all fitness levels and ages. It is extremely good fun and puts smiles on faces!
Weigh to Go is a 15 week programme promoting healthy lifestyles in conjunction with NHS Lanarkshire. It consists of 45 minutes nutritional information and 45 minutes of circuit style exercise. Participants are expected to undertake both elements of the class as the class is suitable for all levels of fitness.
Yoga takes your body through a series of postures in standing, seated and lying positions to improve body awareness, flexibility, strength, muscle tone while focusing on breathing and mindful movement. Generally followed by 10-15 minutes of meditation or relaxation.
Zumba is a dance-based fitness workout inspired by traditional cumbia, salsa, samba and merengue music. Designed to burn fat and tone muscles. Ditch the workout, join the party.
Share this page