Cardio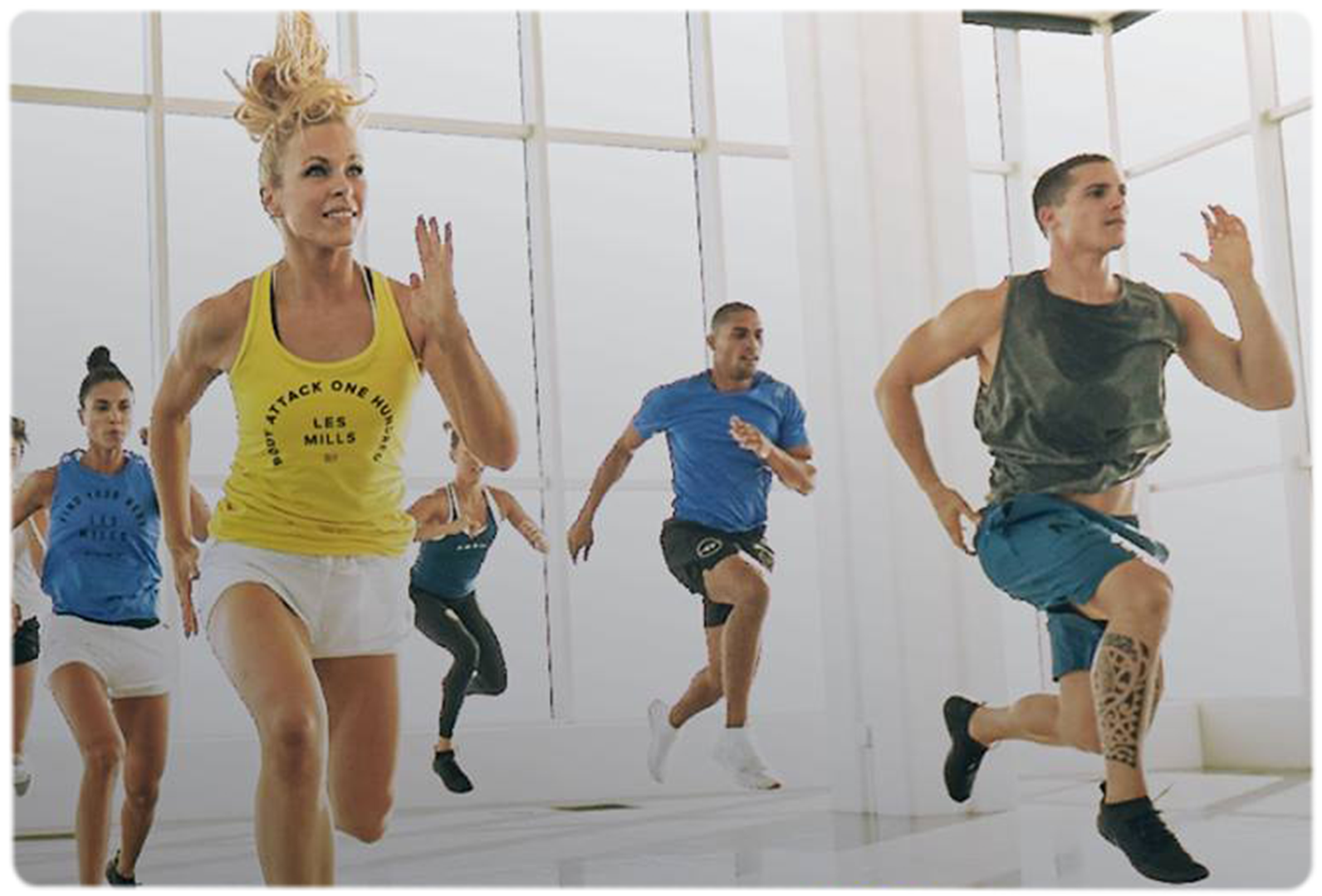 Want to feel fitter? Our cardio classes will have your heart rate up while you move through a variety of different movements at your own pace.
You're going to need plenty of water, and maybe even a towel for these classes.
NB Class participants must be 12 years or over with the exception of Body Pump which is 14 years or over. For indoor cycling participants should be 12 years or over and at least 4ft 11in/150cm.
Check the fitness timetable for your local centre.
Cardio classes
Body Attack is the sports-inspired cardio workout for building strength and stamina. This high energy interval training class combines athletic aerobic movements with strength and stabilization exercises. Suitable for all fitness levels.
Body Combat is the fiercely energetic cardio workout inspired by martial arts and draws from a wide array of disciplines such as karate, boxing, taekwondo, tai chi and muay thai.
Body Conditioning combines cardio and resistance work to an energetic beat to work your whole body. With a range of exercise techniques that include aerobics, floor work, weights and resistance training, you are guaranteed a varied class.
Bootcamp classes are a full body, physically challenging workout. Each class contains a mix of exercises including pull ups, push ups, squats, lunges and crunches – as well as drill and sprints. These classes vary between indoors and outdoors.
Boxercise is a high intensity, interval training class based on boxing training. From quick punches to fast feet, the moves will be sure to raise your heart rate.
Circuit Training is a full body athletic workout combining cardiovascular drills and strength, done in time specific intervals. It combines body weight and equipment exercises to improve cardiovascular fitness and challenges all major muscle groups. Class content and style may vary between instructors. Suitable for all fitness levels.
GRIT Cardio is a 30-minute high-intensity interval training (HIIT) workout that improves cardiovascular fitness, increases speed and maximizes calorie burn. This workout uses a variety of body weight exercises and provides the challenge and intensity you need to get results fast.
HIIT is high intensity interval training that alternates periods of short intense anaerobic exercise with less intense recovery periods. An excellent way to maximize a workout in limited time.
HIIT Step is a 30 minute high intensity class using only bodyweight and a step. This fast-paced class with short, sharp bursts of work is a guaranteed all over body workout.
Indoor Cycling / group cycling / spin / spinning is high energy interval training on a modern stationary bike that is fully customizable to the user. You control tension or resistance on the bike to suit your fitness level and how challenging you want the workout. Class content and style may vary between instructors.
Metafit is a short sharp full body workout. Combining cardiovascular drills and strength done in time specific intervals, using body weight exercises. You will improve cardiovascular fitness as well as challenging all the major muscle groups for all round fitness gains. Suitable for all fitness levels.
SH1FT is smart high intensity functional training for all fitness levels. Using only your bodyweight you will develop speed, balance and agility. You will build athletic fitness as you sweat through simple progressions.
Totally Shredded Fitness is a combination of HIIT, combat, cardio and plyometric training.
Urban Rebounding is performed entirely on a unique, high quality, spring enhanced mini trampoline with a non-slip surface. The programme uses familiar aerobic moves, sports specific conditioning moves and core stabilization techniques to ensure a full body workout. It provides a surprisingly challenging cardiovascular workout without excess stress on the heart, muscles and joints. Suitable for all fitness levels and ages. It is extremely good fun and puts smiles on faces!
Share this page