Readers groups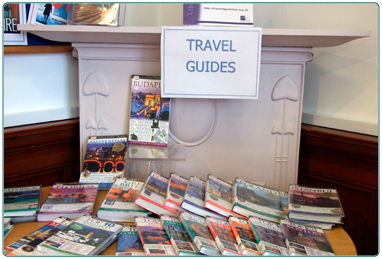 Do you love reading?
Do you enjoy talking about books?
Would you like to share your ideas for a good read?
A readers group is a group of people who meet regularly to discuss books they have been reading. Groups range from friends who meet in each other's homes, to groups set up in libraries or bookshops. Readers group members discover new authors and titles, widen their reading choices and meet other readers in a friendly, informal setting.
South Lanarkshire Leisure and Culture's libraries run readers groups in a number of libraries around the authority. See the table below for a list of groups currently running in libraries.
For further information on Readers Groups contact: hamilton@library.s-lanark.org.uk
Tel. 01698 452122
Readers groups in South Lanarkshire Leisure and Culture libraries
Library (click the link for contact details)
Readers groups information
Avondale Community Wing
Last Monday of each month, 2:00pm-3:00pm
Biggar Library
Third Monday of each month, 10:30am-11.30am
Blantyre Library
First Thursday of each month, 2.00pm
Bothwell Library
First Thursday of each month, 6.00pm - 7.00pm
Burnbank Library
First Tuesday of each month, 6.00pm - 7.00pm
Cambuslang Library
First Thursday of each month, 2.30pm - 3.30pm
Carluke Library
Tuesday afternoon once a month, 2.30pm - 3.30pm (contact library for next meeting)
Cathkin Library
Second Tuesday of each month, 6.30pm - 7.30pm
Third Tuesday of the month, 1.30pm - 2.30pm
East Kilbride Central Library
First Monday of each month, 1.30pm - 2.30pm
First Friday of each month, 11.00am - 12noon
Second last Friday of the month, 11.00am - 12noon
Thursday evenings once a month, 6.00pm - 7.00pm (contact library for next meeting date)
Fairhill Library
Every fourth Friday of each month, 10.30am - 11.30am (contact library for next meeting)
Greenhills Library
Thursdays, 1.30pm - 2.30pm four-weekly (contact library for next meeting date)
Hamilton Townhouse Library
First Wednesday of each month, 1.30pm - 2.30pm (2 groups)
Hillhouse Library
Every fourth Thursday at 5.30pm (contact library for next meeting)
Lanark Library
Third Friday of each month, 2.30pm - 3.30pm
Larkhall Library
First Tuesday of each month, 7.00pm
Crime readers group, second Tuesday of the month, 2.00pm
Lesmahagow Library
Third Tuesday of the month, 7.00pm - 8.00pm (contact library for next meeting)
Rutherglen Library
Third Monday of each month at 2.00pm
St Leonards Library
Second Tuesday of each month, 2.00pm - 3.00pm
Last Wednesday of the month, 2.00pm - 3.00pm
Uddingston Library
Last Monday of each month, 11.30am - 12.30pm (Crime readers group)
Share this page