Children's activities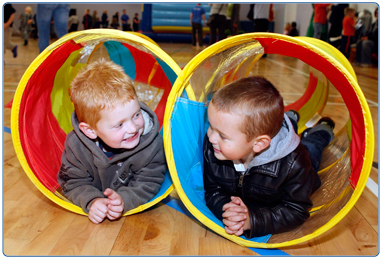 South Lanarkshire Leisure and Culture offers a wide range of activities for children, from tots to teens.
ACE / Tiny ACE membership
Our ACE / Tiny ACE membership gives access to activities suitable for children from 12 weeks to 15 years. Activities range from sports, such as football, gymnastics and trampolining, to arts and crafts, music and drama. Also included are golf, swimming, racquet sports, and gym and fitness classes (12 years and above). For children aged 2 to height 4'9" we have soft play at Larkhall Leisure Centre, Burnbank Centre and The Fountain.
These activities are also available on a pay-as-you-go basis.
Courses and classes for children and young people
General sports / fitness
Great days out for children
How to book
Children's Birthday parties
As well as all of these fantastic activities, you can give your child a birthday party to remember at one of our facilities.
Keep up to date with children's activities in South Lanarkshire
For regular updates on activities for pre-school and primary school aged children, 'like' our Children's Activities Facebook page today!
---
Share this page