Chatelherault estate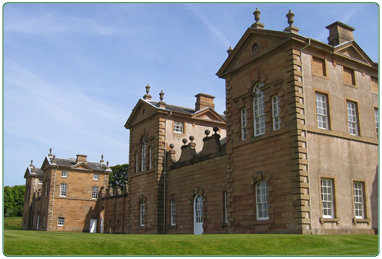 ---
Nature trails
Feel close to nature within10 miles of stunning woodland and gorge paths which follow the course of the river Avon from Hamilton to Larkhall.
Ancient oaks
These beautiful Oaks form part of the Oaks meadow on the west bank of the river Avon. They have been dendrochronologically dated back to the mid 15th century, making them approximately 600 years old.
White cattle
These cattle are descendants from the original herd which have roamed the ancient meadow and parkland for hundreds of years. They are not native to this country and it is thought that they were brought over from Europe by the Romans.
Duke's monument
Standing at the north west corner of the park the monument was erected in memory of William 11th Duke of Hamilton who died in 1863. The bronze bust of the Duke, which stood at the centre of the monument, is now on open display for visitors.
Cadzow castle
There remains a mystery as to the exact date of construction but indications imply that there was royal residence of some sort between 1139 and 1234.What once was the stronghold of the Hamilton family, the castle remains are sited on the west bank of the Avon gorge.
Dukes Bridge
Commissioned by William 11th Duke of Hamilton the Bridge stands 80ft high and spans across the Avon gorge allowing access to the ancient oaks and Cadzow castle.
The Gardens
Gardens surrounding the hunting lodge contain an original design Parterre garden, traditional bowling green, and herbaceous border which were created by the Dukes gardener John Hossack in 1740. The plants within this 18th century garden were not only grown for their beauty and fragrance but also for their medicinal and culinary virtues.
Share this page