Swimming pool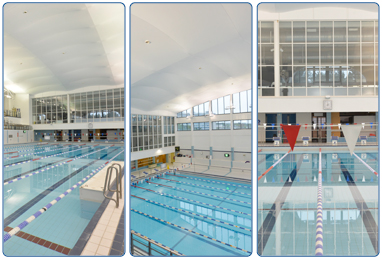 ---
Our 50 metre swimming pool is the only place in South Lanarkshire where you can swim Olympic lengths. The pool can also be split into two separate 25 metre pools. This enables us to deliver an extensive programme of activities and lessons for all ages and abilities whilst still offering plenty of space for general swimming.
For customers who find access to traditional pools difficult we have some easy access stairs with hand rails and an oxford dipper pool hoist.
Our changing village offers private, family and baby changing cubicles as well as dedicated disabled changing, showering and toilets that have hoist and tracking systems. All our lockers operate with a refundable £1 coin.
Some of the pool activities include:
Group and Private Swimming Lessons (See Swimming Development section)
Lane swimming 25m and 50m
Aquafit classes
Parent and child/ baby classes
Pool Inflatable fun sessions (Saturday and Sunday 1:45pm-3:00pm)
Adults only sessions (Monday 8.00pm-9.30pm)
Life saving club sessions
Sub Aqua club sessions
EK Swimming club
For child safety, please ensure you comply with our under 8's swimming policy when bringing young children to swim.
Group and private swimming lessons are also available offer to suit all abilities from pre school beginners to adults. For more information on these lessons, visit our Swimming Development section.
For more information about what is happening in Dollan Aqua Centre's pools and when, call 01355 260000.
For information on our membership packages, visit our Membership homepage.
Swimming timetable
Monday-Thursday* 7:30am-9:30pm
Friday* 7:30am-8:00pm
Saturday** 8:00am-3:45pm
Sunday 8:00am-4:00pm
*No public swimming between 2:15pm-7:00pm on a Monday, Tuesday, Thursday and Friday and between 2:15pm - 4:30pm on a Wednesday.
**Restricted public access on Saturday. 50m lane swimming only in two lanes between 8:00am-9:00am. At 9:00am the pool will close for 30 mins and reopen at 9:30am Please note lane swimming sessions are for 12 years plus and accomplished swimmers only.
To discover what this swimming pool has to offer you, visit the Pool timetable.
Share this page