The Gym at the Dollan Aqua Centre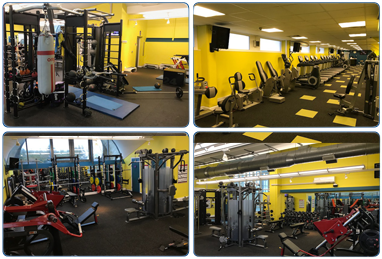 What sets the Dollan's new refurbished gym apart, from other gym providers in the area, is our highly motivated, knowledgeable and experienced staff who are always on hand to assist you whether you are just joining our fitness family for the first time or are already part of our family looking for more advanced help and advice.
To make the start of this journey easier we have developed our Perfect Fit product (free to all new fitness members) which gives you up to five 1:1 sessions with one of our instructors who will use them to guide you through the best way to achieve the results that you desire.
The Dollan has two fantastic gym areas one which has a more traditional feel with a complete suite of cardiovascular equipment such as:
Treadmills
Cross trainers / ARC trainers
Bikes (Upright, Recumbent and Stages Bikes)
Hand cycle
Rowers
And further contains our 'HUR' resistance equipment which uses compressed air instead of weight stacks for resistance. This makes them more suitable and accessible for all ages and abilities with no loud bangs from clanging weights!
Our second gym area embraces the new functional training and free weights trend. In this area we have a fitness training rig with a boxing station, rebounder, dual action pulley and monkey bars to name a few of the types of activities that can be built around this piece of equipment. We also have a self-powered curved treadmill and SPARC trainer that can be used independently or as part of a high intensity interval training routine. To further compliment this we have a number of plate loaded fix resistance machines and two half racks as well as a dumbbell free weights area with further cable machines.
At the Dollan, no matter what stage you are at on your fitness journey, we will be with you all the way guiding and motivating you to a better healthier lifestyle. It's never too late to start and the benefits start when you do!
The gym is available for customers aged 12 years and over. All under 16s must complete their Perfect Fit (five appointments) at any South Lanarkshire Leisure and Culture gym. Twelve and 13 year olds must be accompanied by an adult during times that the gym is unstaffed.
Share this page