Sports halls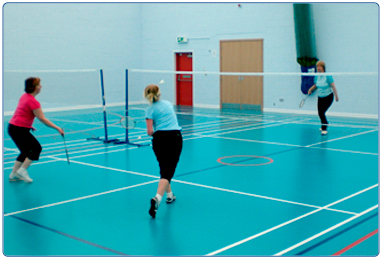 ---
John Wright Sports Centre has two sports halls. Our main hall is known as 'Sports Hall 1 & 2' as it is a massive 1184 square metres and can be divided into two halls. Sports Hall 1 & 2 is used for most indoor sports including basketball, volleyball, handball, netball, five-a-side football, hockey, roller hockey and indoor cricket training as well as badminton.
Our smaller hall is known as 'Sports Hall 3'. Sports Hall 3 is 290 square metres and is mainly used for fitness classes and private clubs such as judo, karate, table tennis and trampolining.
Activities available include:
5-a-side Football
Badminton
Basketball
Short Tennis
Table Tennis
Large Sporting/ Non Sporting Event Venue
Clubs available
Cricket
Judo
Handball
Trampolining
Various Martial Arts
Booking information:
Block booking applications are available and are considered on annual basis. They traditionally operate between September and August of the following year.
Contact the centre on 01355 237731 for further details with regards to all bookings or general enquiries.
Share this page