Lanark Lifestyles and Harry Smith Complex venue hire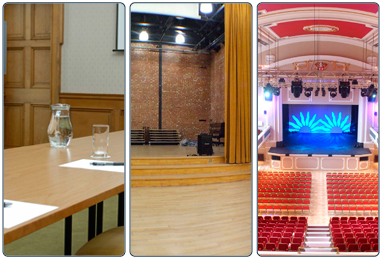 South Lanarkshire Leisure and Culture offer a large number of community facilities and venues for hire. These range from one room facilities through to our selection of large prestige community venues.
The facilities can be used for a variety of community, social and commercial activities. These include art or sport classes, meetings, parties, discos or wedding receptions.
To enquire about a booking, please contact Lanark Lifestyles.
Information for this venue is in the table below:
This table contains information on the facilities and capacity of the rooms and halls at Harry Smith Centre.
Room
Capacity
Size (sq m)
Board
room
Seated
Cabaret
Theatre
Standing Perform-
ance
Standing
Main Hall
148
110
120
140
Lesser Hall
51
30
30
50
Meeting Room 1
18
12
Meeting Room 2
37
20
Small Committee Room
22
10
20
20
Dance studio
109
60
30
Stage:
No
Cafe:
No
Catering facilities:
No kitchen facilities available. Check Coffee Shop opening times. Teas, coffees, sandwich platters available on request.
Bar facilities:
Temporary / pop up bar can be arranged outside or inside the main hall.
Liquor/Entertainment licence:
Yes - customers require to seek permission to consume alcohol on the premises. The appropriate licence is required from SLC to sell alcohol within the venue.
Civil/Marriage licence:
No
Events Co-ordinator:
Yes
Technical set-up / equipment hire:
No
Access:
Disabled parking, automatic entrance doors, accessible reception, all ground level, accessible changing areas, accessible toilet, pool hoist, Hearing Loop, Language Line and Typetalk. Main access via the entrance doors at the Harry Smith Complex.
Share this page