Hydrotherapy pool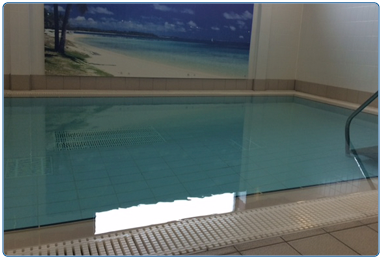 Our Hydrotherapy Pool
The hydrotherapy pool within Lanark Lifestyles is situated off the main changing village.
The pool itself is 4.5m x 3m, 0.9m deep and is heated to approximately 34 degrees Celsius.
Bathers can entry/exit the pool using the steps or pool hoist.
Situated close to the pool is the changing area with adjustable changing bed, shower, sink and hair drying facilities and a separate toilet area.
Access to the pool from the car park is fully wheel chair friendly.
Benefit of Hydrotherapy?
The therapeutic benefits of immersion in a heated pool include:
Improving and maintaining the range of joint movement
Helping muscles to relax
Helping to relieve pain
Reducing pressure of weight bearing joints while exercising
Facilitating rehabilitation
Who can benefit from Hydrotherapy?
Many people with conditions such as arthritis, muscular dystrophy, MS, cerebral palsy, autism as well as people recovering from a stroke, an accident or surgery.
The heated pool can be used by people with physical or mental difficulties to exercise and improve their quality of life.
Hydrotherapy can also be used to treat and speed recovery from sports and work related injuries.
Who can use the pool?
Private hire of the pool is available to any member of the public that would benefit from what it can offer.
Individuals can hire the pool to work through pre-prescribed exercises themselves or they may choose to book with or through their physiotherapist.
We always recommended speaking with a qualified practitioner prior to embarking on any exercise programme.
Similarly, using a hydrotherapy pool if you have recently suffered from a serious medical condition may not be advisable. Check with your GP or consultant if you are in any doubt.
The maximum capacity of the pool is 4.
How to use the pool
Enquiries for hiring the pool should be made to lanarkpool@southlanarkshireleisure.co.uk or by calling us on 01555 666800.
Monthly block bookings are available. We are often able to offer one-off slots where availability allows.
Each booking is one hour (including change time) and costs £19.70. Payment is required in advance for bookings or blocks.
A lifeguard will be with the booking for the duration and costs for this are included.
If you would like to look around the facility please do not hesitate to contact the reception. We would be more than happy to show you around.
Good practice and House Keeping Guide
Whilst we strive to keep the area clean and tidy for all users we ask our customers to follow these steps so everyone can continue to receive the benefits of the pool:
Outdoor shoes are not allowed in the changing areas unless covered by the blue overshoes.
Users in wheelchairs should transfer to the provided white pool wheelchairs before entering the pool area. Just let reception know and a member of staff will bring this to you.
All users should shower before use.
Water bottles are allowed within the area however juice or glass bottles are not.
Clients who have been unwell (vomiting or diarrhoea) within 48 hours should not use the pool.
Any user with incontinence issues should wear appropriate swim wear.
Share this page