Golf Outings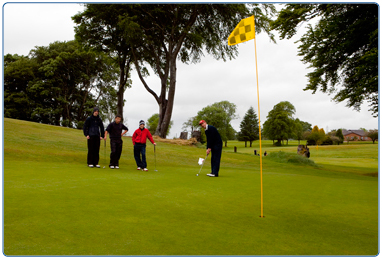 Our 18 hole courses are excellent, popular venues for golf outings and visiting parties. We take the hassle of organising outings away from the customer and work in partnership with the resident golf clubs who provide quality catering and bar services to quench your thirst and feed the appetite after an enjoyable round(s).
You can book one of the following courses for your group outing:
Biggar Golf Course
Hollandbush Golf Course
Langlands Golf Course
Torrance House Golf Course
Golf packages
Mid week price
Weekend price
Package 1
Breakfast, golf
£22.00
£25.00
Package 2
Breakfast, golf, lunch
£27.00
£30.00
Package 3
Breakfast, golf, dinner
£30.00
£33.00
Package 4
Lunch, golf
£23.00
£26.00
Package 5
Lunch, golf, dinner
£32.00
£35.00
Package 6
Golf, dinner
£25.00
£27.00
Package 7
Breakfast, golf x 2, lunch, dinner
£39.00
£45.00
Please note, a golf insurance fee of £0.40 per person is included in the above prices.
Golf outing rules
Minimum of 8 persons.
A £10.00 per person deposit is required.
Full balance is payable two weeks in advance of the outing date and is non-refundable.
A collared shirt must be worn in the clubhouse.
Alcohol is not permitted on the golf course.
Changing facilities
Showers and changing facilities available in the clubhouse.
A limited amount of lockers are available at the Starter's Office.
Booking an outing
To book an outing please email golf@southlanarkshireleisure.co.uk with your requested course, package, date(s) and times. If you would prefer to do so over the telephone, or have any queries, please call the golf section on 01355 233451.
Share this page