Bookbug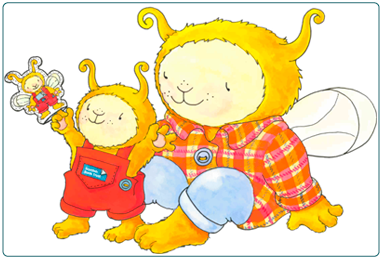 What is Bookbug?
Bookbug is the book sharing programme delivered in partnership by national reading charity Scottish Book Trust, local authorities, libraries and health trusts. Bookbug encourages parents and carers to share books with their children from as early an age as possible to inspire a love of reading in every child.
There are four fantastic free bags of books for young children in South Lanarkshire.
Baby Bag: from your health visitor when your baby is 3-5 weeks
Toddler Bag: from your health visitor when your child is 13-15 months
Explorer Bag: from nursery when your child is 3
Primary 1 Family Bag: from school when your child is in P1
Gaelic Bookbug Bags are also available for families interested in Gaelic.
Tactile books are available for children with additional support needs alongside their Bookbug Bags.
How do I get a Bookbug bag?
Libraries, health staff and nurseries in South Lanarkshire work together to try to make sure that all families receive their bag. If by any chance you missed getting a Bookbug bag, then pop in to your local library and collect one.
Why read and sing with my baby or child?
Bookbug aims to help every child in Scotland develop a love of books and reading. Sharing books, songs and rhymes for a few minutes a day will:
Develop language skills
Allow time for cuddling and bonding
Help families to relax
Boost children's confidence
Encourage drawing and writing
Provide a strong start in life
About Bookbug
Bookbug is Scottish Book Trust's national Early Years programme. A national charity, Scottish Book Trust delivers the Bookbug programme locally by working in partnership with local library and education services and third sector organisations. To support local delivery of the Bookbug programme, Scottish Book Trust provides its partners with training, advice and Bookbug bags of books.
For more information about Bookbug, including resources, research, advice and tips visit: www.scottishbooktrust.com/bookbug
Bookbug Sessions
What are they?
Free, friendly, fun sessions of songs, rhymes and stories for babies, toddlers, pre-schoolers and their families and carers to enjoy together. Each session lasts around 30 minutes and has been designed to support children's development while having fun. They take place in a very relaxed environment and are a great opportunity to spend some quality time with your little one, and meet other families.
Why?
Rhymes and songs help your baby's language skills and are great building blocks for your baby's future learning. Sharing time singing with your babies, toddlers and pre-schoolers is a fantastic way to have fun together. And it's a great place to meet other families. Come along and join in the fun.
Find out more about the benefits of Bookbug Sessions (link to http://www.scottishbooktrust.com/bookbug/about-bookbug/research)
What parents enjoy about Bookbug Sessions:
'Getting out and about and learning new songs to sing at home.'
'Seeing my child enjoying herself and making friends.'
'Seeing my child having fun.' 'Interacting with my baby in new ways.'
'It's a good mix of songs and always fun.'
Where and when?
Our current Bookbug timetable is available to view. Bookings up to a week in advance can be made in person or by contacting your library during advertised opening hours.
What else does our library offer for young children?
All babies and children can register for their own library card and borrow books for free. We have an excellent selection of children's books including board books and lift the flaps. Ask our Children's Assistants if you would like some recommendations.
There are no fines for any overdue books for children using our Libraries.
Early Years Activities in Libraries, Leisure and Cultural Venues across South Lanarkshire
Our fabulous Tiny Ace product provides an extensive fun-filled programme of Arts, Culture and Exercise activities for children from birth to preschool age. Membership entitles you to participate in as many Tiny ACE activities as you like for only £16.50/£8.25 concession per month, or on a pay as you go basis. Tiny ACE will let your child explore and discover a range of activities which will help develop their creativity, speech, social and motor skills. Taking part in these imaginative play sessions will encourage your child to develop an active mind and body.
You can get started with your membership by joining online or at any of our local SLLC facilities.
Bookbug's Library Challenge
Children can take part in Bookbug's Library Challenge in all our Libraries.
Join at your local library and pick up your child's Collector's Card
Collect a stamp each time your child borrows books
When your card is full, swap it for a certificate for your child to keep
Start collecting stamps on a new card!
There are lots of certificates to collect
Share this page