Did you know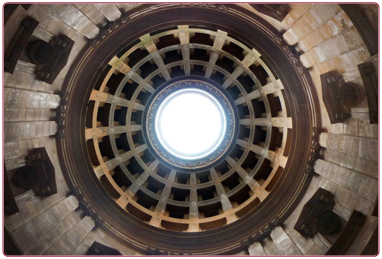 ---
Did you know ...?
The Mausoleum was one of Britain's costliest buildings at the time, over £33,000 - today that would be approximately £2 million.
In 1852 the 10th Duke died. Alexander was over 6ft tall, and a coffin couldn't fit inside the Egyptian sarcophagus. Stone was chipped away from inside to make room for the body. This was embalmed and transported by train from London to be interred in an elaborate ceremony according to his very detailed instructions. The sarcophagus was then bricked up inside its niche in the Chapel, until building work finished four years later.
The elaborate burial ceremony was described in the Journal of Egyptian Archaeology in 1934 as 'recalling the well-known paintings on the walls of Theban Tombs'.
The massive cast bronze doors, now stored inside, were sculpted by Sir James Steele, and cast by James Milne. They are copies of the famous Ghiberti doors of the Baptistery of Florence in Italy.
The Mausoleum's interior was never completely finished - the niches around the base of the dome are empty of the statues for which they were probably intended.
The 10th Duke was the Grand Master Mason of Scotland. The Mausoleum is said to contain lots of Masonic symbolism.
Underground coal mining affected the Mausoleum's stability. Through time it sank several feet and tilted several inches from the vertical. In the 1960s tons of concrete were pumped underneath the foundations. Fortunately, it stopped sinking.
The vaulted crypt and its superb 'dovetailed' stonework may have prevented greater damage or collapse.
In 1921 the bodies were removed from the crypt for safety and reburied in Bent Cemetery, Hamilton.
The interior walls of the chapel have an inward slope to increase the effect of height. Any loud noise causes a reverberating echo - the longest of any building in Britain.
The echo prevented the Mausoleum ever being used as a chapel.
Share this page