Buildings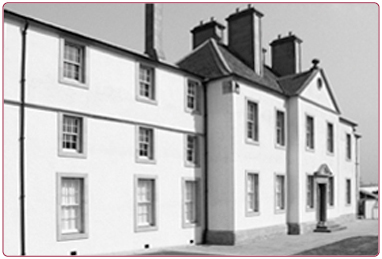 ---
Low Parks Museum is housed in two buildings formerly associated with the Dukes of Hamilton. Grade 'A' listed, they are regarded as nationally significant.
The first of these was built in 1696 as Portland, the private residence of David Crawford, Secretary to the 3rd Duke and Duchess of Hamilton. Later, Portland was purchased by the 8th Duke of Hamilton, and became The Hamilton Arms, a coaching inn. The building was enlarged in 1782 with the addition of a very fine Assembly Room, which survives today complete with original plasterwork and musician's gallery.
The Hamilton Arms Inn was the last stagecoach stop before Glasgow on the journey north and the focus of fashionable events in the town. With the growth of tourism in Britain in the late 1700s, it became popular with visitors wishing to see Hamilton Palace and the Falls of Clyde. Famous travellers, such as Dr Johnson and James Boswell, and Dorothy and William Wordsworth are all known to have stayed here.
The inn operated until 1835, when the Duke of Hamilton converted it into his estates offices. In 1963 it was purchased by the Hamilton Burgh Council and opened as a Museum in 1967.
The second building which forms the museum complex is Hamilton Palace Riding School, an indoor area built by Alexander, 10th Duke of Hamilton, in 1837. In the 1920s and 1930s, the Riding School was equipped with a gymnasium and regulation boxing ring for the Douglas and Clydesdale Amateur Boxing Club. The club was founded by the Duke of Hamilton's son, the Marquis of Douglas and Clydesdale, whose reputation as a skilled boxer while at Oxford University earned him the nickname the 'Boxing Marquis'.
In 1983, the Riding School was acquired by the Regimental Trustees of the Cameronians (Scottish Rifles) as a museum until 1995, when redevelopment work began and a new museum complex joining the two buildings was opened in 2000.
Share this page