Exhibitions, Events and Activities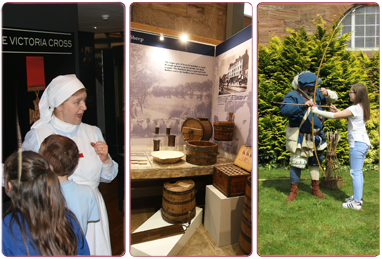 In addition to our core displays and changing temporary exhibitions, we offer many activities and events within Low Parks Museum.
Exhibitions
Our current exhibitions or displays:
National Treasure: South Lanarkshire's Sir Harry Lauder Collection Exhibition
Sir Harry Lauder was Scotland's first successful international entertainer - indeed the first superstar. A local lad whose unique stage image and performance brought world fame. The Sir Harry Lauder Collection of over 600 items gained the National Recognition award in 2022 and a large part of this collection will go on public display.
This colourful and theatrical exhibition showcases Harry's life and work. Through stage costumes, his trademark twisty walking sticks, handwritten letters and lyrics, music, photographs, film and archives, it explores his characters and songs, his world tours, his family and friends, allowing us a valuable insight beyond the fame to the family man.
Opens Saturday 10 June until end February 2024. Entry is free.
Events
Music in the Museum: Mary Reid
Enjoy an afternoon of ethereal strings from one of Scotland's leading harpists.
With a varied musical appetite, Mary performs as a soloist, chamber musician, orchestral harpist, and in the community. She has a passion for giving recitals that showcase the harp's full potential and we cannot wait to welcome her to Low Parks Museum and hear her perform in our Assembly Room.
19 August 2023 at 2:00pm
£15
You can book tickets online for this event.
Music in the Museum: George Todiča
Lanarkshire looks forward to welcoming back pianist George Todiča. An alumnus of the Royal Conservatoire of Scotland, George is a prize-winning pianist with an incredible talent and an engaging personality. We're thrilled to welcome him back to the historic Assembly Room of Low Parks Museum for an afternoon of exceptional music.
13 October 2023 at 2:00pm
£15
You can book tickets online for this event.
Heritage Trail
A walking and cycling route between two of South Lanarkshire's most prestigious historic buildings enhanced to provide an opportunity for everyone to enjoy and engage with their local heritage and landscape, while benefitting their health and wellbeing.
The app called "Chatelherault to Low Parks Heritage Trail" (a free download from Google Play or the App Store, depending on your device) details and tracks your route while providing heritage content along the way. Learn key facts about the landscape's history and enjoy archive images and historic footage to enhance your experience.
Finish off with a leisurely wander around the museum, a browse in the shop or visit the café for a spot of something lovely! This route can be reversed, Chatelherault's shop and café are also well worth a visit!
The project has been funded by Smarter Choices, Smarter Places – Paths for All's grant scheme to support behavioural change initiatives to improve people's lives.
Mausoleum tours
When conditions permit, we offer entertaining and very informative tours of Hamilton Mausoleum.
Share this page