Exhibitions, Events and Activities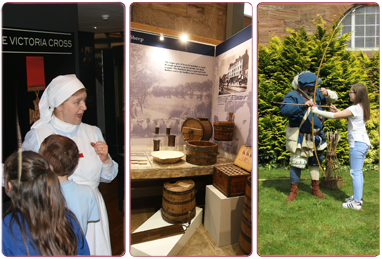 In addition to our core displays and changing temporary exhibitions, we offer many activities and events within Low Parks Museum.
Exhibitions
Our current exhibitions or displays:
Going to the Pictures - We are excited to welcome a @NationalLibraryOfScotland touring exhibition. Open from Saturday 21st of January until March, this free exhibition of display panels tells the story of Scotland's memories of cinema held at the National Library. There is also a handling case with objects relating to the exhibition for some hands-on fun and film footage to view.
Harry Lauder - A Recognised Collection. A mini display of some of the iconic items from our recent nationally awarded collection. A taster of the major exhibition coming in 2023. Further information is available on the Museums Galleries Scotland website.
Rutherglen Ladies FC - now until 12 March 2023. Women's football is thought to be a modern development, in fact women have been playing football for over 100 years. Recent research has uncovered the forgotten story of Rutherglen Ladies FC and their battle against the odds just to play matches, as attitudes towards women's football became increasingly hostile.
The exhibition tells the story of the team from its foundation in 1921 to disbandment in 1939; exploring the lives of the manager J.H. Kelly and the players and their ground-breaking tours in Scotland, England and Ireland.
Music in the Museum
Maxwell, Lightbody, Smith
20 March 2023
2:00pm
Free, but must be booked in advance
Part of the Young at Heart festival.
Three of Scotland's most versatile musicians, Cameron, Rachel and Conor have been performing together in various projects for over 10 years.
In this trio they bring together their wealth of experience to share with audiences their love of Great American Songbook melodic jazz. They perform a wide range of songs made famous by jazz legends such as Ella Fitzgerald and Frank Sinatra. Conor's intricate guitar work combines with Cameron's tasteful double bass to support Rachel's spellbinding vocals. They evoke the sounds of jazz's golden age and take the audience on a journey through swing, bossa and doo-wop. Included are hits from Cole Porter and George Gershwin, to name but a few.
In addition, they are all experienced in teaching groups and individuals of a wide age range. They create engaging performances which are accessible to all.
Please book by telephoning The Town House Hamilton on 01698 452299.
Heritage Trail
A walking and cycling route between two of South Lanarkshire's most prestigious historic buildings enhanced to provide an opportunity for everyone to enjoy and engage with their local heritage and landscape, while benefitting their health and wellbeing.
The app called "Chatelherault to Low Parks Heritage Trail" (a free download from Google Play or the App Store, depending on your device) details and tracks your route while providing heritage content along the way. Learn key facts about the landscape's history and enjoy archive images and historic footage to enhance your experience.
Finish off with a leisurely wander around the museum, a browse in the shop or visit the café for a spot of something lovely! This route can be reversed, Chatelherault's shop and café are also well worth a visit!
The project has been funded by Smarter Choices, Smarter Places – Paths for All's grant scheme to support behavioural change initiatives to improve people's lives.
Mausoleum tours
As part of the Young at Heart festival, there will be a mausoleum tour on 15 March 2023. Please contact Low Parks Museum on 01698 452382 to book.
When conditions permit, we offer entertaining and very informative tours of Hamilton Mausoleum.
Share this page