South Lanarkshire Museum collections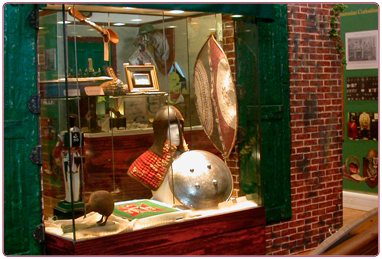 After local government re-organisation in 1996, the collections of Hamilton, East Kilbride, Clydesdale, and Rutherglen and Cambuslang came together as South Lanarkshire Council museum collections.
Hamilton District Museum had cared for The Cameronians (Scottish Rifles) collection on behalf of the Regimental Trustees from 1985. This collection formally transferred to South Lanarkshire Council in 2005 and is the only Scottish military collection in local authority care. The Regimental Trustees continue to be actively involved with the collection.
What have we got?
Civic:
We have many objects connected to the long history and traditions of South Lanarkshire's ancient burghs, including weights and measures, the oldest known racing trophy - the Lanark Silver Bell, burgh seals and civic regalia.
Fine and decorative arts:
Our fine art, including paintings, drawings, watercolours, prints and sculpture, and our decorative arts, including furniture, metalwork, ceramics and glass, are mostly by local artists or makers. The objects in the collections relate to local scenes or are associated with subjects of local interest.
Historic archive:
The archive covers all subject categories listed here, but particularly relates to social history, industrial history, personal items and the civic collections. The archive collections for Hamilton and Rutherglen are particularly significant.
Industrial history and archaeology:
The collection contains significant local material, including small collections of Bronze Age, Roman and mediaeval finds.
The well-preserved Bronze Age cist burials from Ferniegair are of particular significance.
Military:
The Cameronian collection occupies a unique place among our museum collections. It is a complete collection in itself dating from 1689 - 1968, and consists of a wide variety of regimental and personal objects. The photographic and archive collections are particularly significant, with some rare archive material.
Please click on this link Cameronian collection to find out more.
Natural sciences:
The geology collection has significant local material, including important fossils from the Lesmahagow area.
Photographic:
This is an extensive collection of local scenes, towns, and villages; local industries; and subjects of local relevance.
Social history, costume, accessories and textiles:
The majority of items were either locally made or worn. The weaving industry was important throughout much of South Lanarkshire and there are fine examples of local manufacture within the collection. Hamilton was also twice in its history a centre of lacemaking, making the small lacemaking collection significant due to the relative rarity of this industry.
Other small collections relate to the famous surgeons from East Kilbride, John and William Hunter, in the 1700s, and to the illustrious Hamilton family during their residence in the county, especially items from Hamilton Palace and estate.
The John Hastie collection is a wonderfully varied reflection of life and industry in the market town of Strathaven.
Share this page