Weigh to Go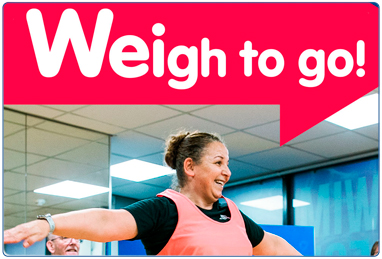 Weigh to Go is a free 15-week programme of supported weight management run in partnership with NHS Lanarkshire. There are two parts to the class, a 45-minute weigh-in and education workshop followed by a 45-minute low impact exercise class. A different topic is covered each week in the education workshop which aims to increase your knowledge about how to live a healthy lifestyle.
As the classes are funded by the NHS, you will need to complete some core data which is returned to the NHS for evaluation. This form will be provided for you at your first class. Weight and blood pressure will be measured at regular points throughout the 15 weeks.
Please note that registration takes place every 5 weeks and as there are limited spaces in each class, you may be placed on a waiting list until a space opens up at your chosen venue.
The intake weeks are: 9 Jan, 13 Feb, 20 Mar, 24 Apr, 29 May, 3 July, 7 Aug, 11 Sept, 16 Oct, 20 Nov.
Once you are booked on to the course, you will have 15 weeks to complete it. Please note you must attend 11 out of 15 Weigh to Go sessions in order to complete this programme. If you miss four or more sessions, you will be asked to re-register on a new block. This is because there is a limited number of spaces on this free programme, and we want to make sure that all spaces are being used.
Please note there is no online booking available for this class, and you will need the Weigh to Go membership added to your account.
To book in please call the centre you would like to attend or, for more information, contact Scott.Crone@southlanarkshireleisure.co.uk.
Weigh to Go classes
This table contains information on Weigh to Go class location, day and time

| Centre | Day | Time |
| --- | --- | --- |
| Blantyre Leisure Centre | Monday | 1:00pm-2:30pm |
| Lanark Lifestyles | Tuesday | 11:00am-12:30pm |
| Larkhall Leisure Centre | Tuesday | 2:00pm-3:30pm |
| Carluke Leisure Centre | Tuesday | 6:00pm-7:30pm |
| Dollan Aqua Centre | Wednesday | 1:30pm-3:00pm |
| Strathaven Leisure Centre | Wednesday | 4:00pm-5:30pm |
| Blackwood and Kirkmuirhill Community Wing | Wednesday | 6:30pm-8:00pm |
| Lanark Lifestyles | Wednesday | 6:30pm-8:00pm |
| John Wright Sports Centre | Thursday | 12:30pm-2:00pm |
| Eastfield - Lifestyle | Thursday | 4:00pm-5:30pm |
| Fairhill - Lifestyles | Friday | 12:00pm-1:30pm |
| Eastfield - Lifestyle | Sunday | 12:00pm-1:30pm |
Share this page