Costume Digitisation - Inspiring Young People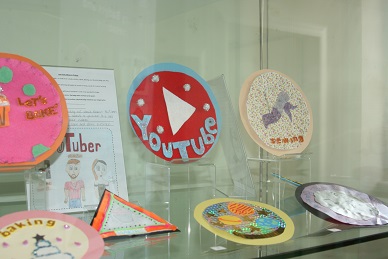 Military and civic uniforms form a major part of our textile collections. A substantial part of this comes from the Cameronian (Scottish Rifles) regimental collections, as well as The Lanarkshire Yeomanry, and the volunteer regiments of the Lanark Militia and Lanarkshire Rifle Volunteers. Our digitisation projects focused on involving South Lanarkshire youth organisations who would be able to draw similarities and comparisons with many of the objects in this collection.
We approached Girlguiding Scotland, South Lanarkshire Division and the 5th Hamilton Guides and 5th Hamilton Rangers volunteered. Inspired by the collections the Guides began by setting themselves the task to design and create new guide badges complete with task levels to achieve the award.
The Rangers decided to create a camp blanket covered in their own choice of guiding badges both old and new from Rainbows through to Seniors. This had been inspired by their unit leader's blanket that had been lovingly stitched by her grandmother and covered her entire time within the organisation.
One of the 1st Lanarkshire Rifle Volunteers' (LRV) most famous high ranking officers was William Alexander Smith, the founder of the Boys Brigade.
We invited two Lanarkshire companies of the Boys Brigade to participate in this project: the 1st Hamilton Company, Junior boys and the 1st Larkhall Company, Seniors. The 1st Hamilton are one of the oldest companies still in existence, and the Junior boys chose to reflect on their history and their unique connection with the Museum. Inspired by the gazettes of the LRV, and the mention of the many sporting clubs within them, the 1st Larkhall Seniors decided to look at one of the most famous clubs associated with them, the Third Lanark Football Club.
Their fantastic work was exhibited in Low Parks Museum.
Share this page