First World War – Hamilton Grammar School's Memorial Art Project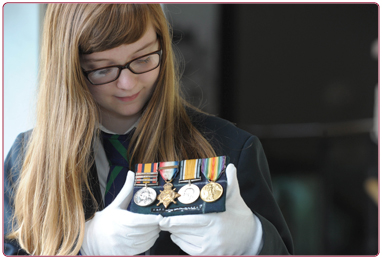 The 100th anniversary of the outbreak of the First World War has inspired many projects to commemorate the War, one of the bloodiest conflicts in human history.
One such project which captured the imagination of pupils at a local secondary school was the Memorial Art Project set up by June MacKenzie, art teacher at Hamilton Grammar School. The project is being delivered by Grammar pupils across all year groups and faculties, and will commemorate each of the 79 former pupils and teachers commemorated on the School's First World War memorial through a piece of memorial art work.
We were delighted to assist pupils in researching those commemorated on the memorial, making available contemporary research material from the museum collection. The artwork being produced for the project is already in high demand with some of the pieces due to be displayed at the National Library of Scotland, and as far afield as Lerwick in Shetland, the hometown of one of the men commemorated on the School memorial.
A particular high-point of the project was when Hamilton Grammar pupil, Hannah Nicol, whose memorial piece commemorates Captain Cecil Murray, was able to visit the museum and see Captain Murray's actual war medals. Hannah said of her visit: "It is an honour to be involved in the project, the medals themselves contain a lot of history and I can use that information to find out more about Captain Cecil Murray and what happened in his life. This has given me a chance to put a lot more depth into the artwork and project."
Share this page