Hamilton Fives Club ballot box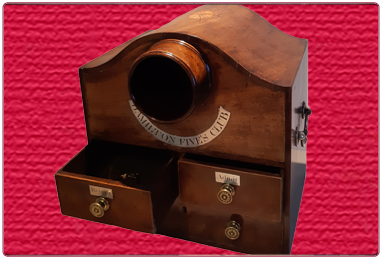 'Fives' is an energetic 18th century handball game played off a high walled court. Coaching inns in England often had courts. Rules versions developed in Public Schools and are still played.
It is rare in Scotland, however Low Parks Museum has its very own Fives Court. Built in 1782 – 84, it is now an exhibitions gallery. Duchess Elizabeth Hamilton, a very athletic lady and notable cricketer, supervised its design and construction, in times when women were not generally allowed to participate in sport.
This beautifully crafted mahogany ballot box with silver inlay, dates from that period and was used to secretly approve new Club members to use the court. Acting on a tip off about a chance discovery on an auction site in 2021, research confirmed its links to the museum when once a coaching inn. A rare object is now back home where it belongs.
Acquired with financial assistance from The National Acquisitions Fund.
Share this page