Lanarkshire Yeomanry cups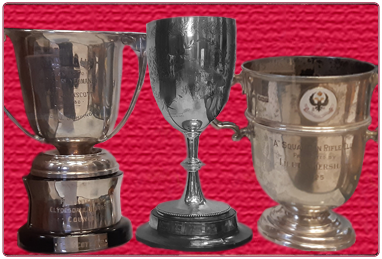 Yeomanry regiments were volunteer cavalry raised in the 1790s, when Britain was at war with revolutionary France. Lanarkshire would not have a civil police force until 1857, so local troops were raised by Sir Norman Lockhart of Lee in 1819 at Carnwath and Douglas, and at Lesmahagow in 1821 by Daniel Vere of Stonebyres. Five Lanarkshire units eventually became the Lanarkshire Regiment of Yeomanry Cavalry in 1848.
The Regiment held its annual review, race and sports meet and training at Lanark Moor racecourse.
The three cups are:
Lanarkshire Yeomanry Troop Challenge Cup, 1887. First presented for shooting marksmanship by the regiment's Adjutant and Captain of the Douglas Troop, R A Vansittart in 1885. He resided at Harperfield House, Douglas Water.
Lanarkshire Yeomanry 'A' Squadron Rifle Club Challenge Cup. Presented by Lt. N. Kershaw, 1925.
The Scott Cup, Individual Jumping. Presented to Lanarkshire Yeomanry by Messrs. J & W Scott, June 1930, the famous Carluke manufacturer and pioneers of mass strawberry production, jam and preserves.
Share this page