Haymaking - Rutherglen around 1912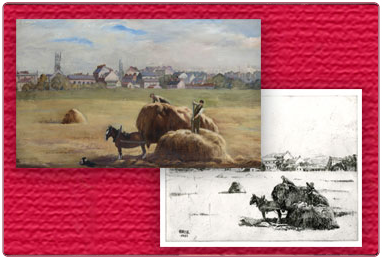 Not as much hay is made these days, as silage tends to be the main crop for winter feed. The speed of haymaking has increased in the last 100 years with modern mowers, turning machines, big balers and large trailers. These help to gather and transport the crop in a couple of days, rather than the slow and laborious methods shown in the painting.
Engraving / etching
Rutherglen from Westfield at harvest time (cf: painting at RG.1978.25 by same artist).
Haymaking scene with horse and cart and figures pitching hay, buildings in background.
Inscribed: HMK (HM McKirdy?)
RG.1984.50.c
Painting, oil on canvas
Shows men loading hay onto horse-drawn cart in field, and a dog. Rutherglen townscape to north.
Unsigned but in pencil on wooden mount: 'Painted by Hugh McKirdy, c1912'.
On left is a church tower (now Rutherglen and Wardlawhill Church of Scotland). Left of centre is Rutherglen Town House. The viewer may be situated on modern day Toryglen Road.
RG.1978.25
Currently on display in Rutherglen Library.
Share this page