Football - Synthetic pitches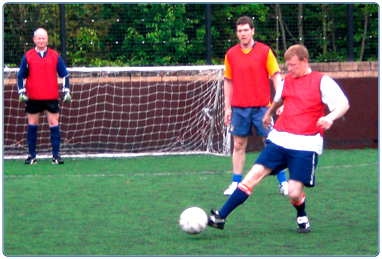 ---
If you are just after a kick about with your friends or a challenge match between work places we have the pitch for you. Our 3rd Generation synthetic pitches have been specially designed to improve player comfort, minimise injury and reduce ball bounce, giving the playing surface a great natural feel, maximising grip. This is the next best thing to grass itself. We have both 5-a-side and 7-a-side pitches across Lanarkshire.
Our synthetic pitches are available all year round with our grass football season running from August until May.
How to book a synthetic football pitch
We offer block bookings as well as casual bookings.
To book one of our many synthetic pitches or to find out more information, call the Booking line found next to each venue.
Pitches in Cambuslang and Rutherglen area

Facility
Area
11-a-side
7-a-side
5-a-side
9-a-side
Booking line
Eastfield - Lifestyle
Rutherglen
0
0
5x3G,
1x 2G
0
0141 642 9500
Fernhill Community Centre
Fernhill
0
0
3
1
0141 634 3158
Newton Farm Community Wing
Cambuslang
1
3
0
0
01698 424101
Stonelaw Community Sports Centre
Rutherglen
1
3
0
0
0141 647 6779
Pitches in Clydesdale area

| Facility | Area | 11-a-side | 7-a-side | 5-a-side | Booking line |
| --- | --- | --- | --- | --- | --- |
| Biggar Sports Centre | Biggar | 1 | 3 | 0 | 01899 222066 |
| Blackwood and Kirkmuirhill Community Wing | Blackwood | 0 | 1 | 3 | 01555 896638 |
| Carluke Leisure Centre | Carluke | 1 | 3 | 0 | 01555 751384 |
| John Cumming Stadium | Carluke | 1 | 3 | 0 | 01555 751384 |
| Lanark Racecourse | Lanark | 1 | 3 | 0 | 01698 424101 |
| Lesmahagow Sports Facility | Lesmahagow | 0 | 0 | 1 | 01555 894127 |
| McKirdy | Lesmahagow | 0 | 1 | 2 | 01698 424101 |
| Willie Waddell Sports and Community Centre | Forth | 0 | 1 | 2 | 01555 812058 |
Pitches in East Kilbride area

| Facility | Area | 11-a-side | 7-a-side | 5-a-side | Booking line |
| --- | --- | --- | --- | --- | --- |
| Alistair McCoist Complex | East Kilbride | 0 | 0 | 1 | 01355 265696 |
| Ballerup Recreation Area | East Kilbride | 1 | 4 | 2 | 01698 424101 |
| Duncanrig Sports Centre | East Kilbride | 1 | 3 | 0 | 01355 248922 |
| Strathaven Leisure Centre | East Kilbride | 0 | 0 | 1 | 01357 522820 |
| Whitemoss (John Wright Sports Centre) | East Kilbride | 1 | 3 | 0 | 01355 237731 |
Pitches in Hamilton area

| Facility | Area | 11-a-side | 7-a-side | 5-a-side | Indoor pitch | Booking line |
| --- | --- | --- | --- | --- | --- | --- |
| Bent | Hamilton | 1 | 3 | 0 | 0 | 01698 424101 |
| Hamilton Palace Sports Grounds | Hamilton | 1 | 3 | 6x3G, 2x2G | 1 x 7-a-side | 01698 424101 |
| Jock Stein Centre | Hamilton | 1 | 3 | 0 | 0 | 01698 828488 |
| Tileworks | Stonehouse | 0 | 0 | 2 | 0 | 01698 424101 |
Share this page