Schools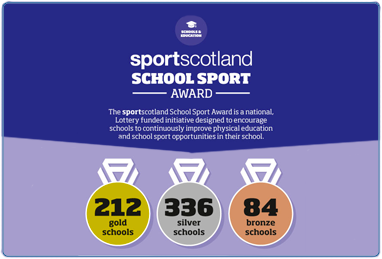 In South Lanarkshire there are 20 high schools and 128 primaries. All of the schools within South Lanarkshire have an Active Schools Coordinator, and participate in a range of activities from afterschool clubs to competitions.
Sportscotland introduced the School Sport Award to recognise and reward proactive schools who have integrated the benefits of sport and physical activity into the ethos of their schools.
The School Sport Award is a useful tool to assist a school in developing a long term health and wellbeing agenda and provide better quality physical education sessions.
We have a number of Gold awarded schools across South Lanarkshire:
1. Biggar High School
2. Duncanrig Secondary

3. Holy Cross High School
4. Kirklandpark Primary School
5. Strathaven Academy
6. Stonehouse Primary School
7. Townhill Primary School

8. Underbank Primary School

9. Netherburn Primary School
10. Newfield Primary School
11. Our Lady & St Anne's Primary School
12. St Blane's Primary School
13. St Kenneth' Primary School
14. St Mark's Primary School (Rutherglen)
15. St Mary's Primary School (Hamilton)

We have a number of leadership programmes within our schools and student programme. These programmes are inclusive to all pupils and students and many of these programmes result in employment within our team and wider services.
Active Schools work in partnership with schools to get primary and secondary pupils more active by providing exciting opportunities in a variety of sports, dance and fitness activities. These activities are offered before school, at lunchtimes and afterschool, in the evening and at weekends in schools, community leisure facilities and at local sports clubs.
Each High School cluster in South Lanarkshire has an Active Schools Coordinator who links with the schools. Click to find out who is your Active Schools Coordinator.
Share this page