Learning and lifestyle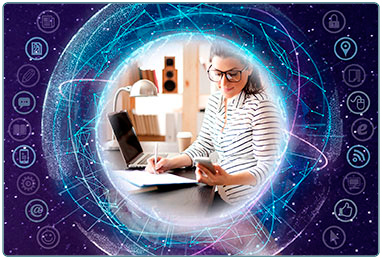 South Lanarkshire Leisure and Culture's Libraries offer a programme of courses and activities for everyone to enjoy. Subjects (examples below) include IT skills, family history and job searching. Look at the full programme of online courses to see what is available in your area.
eBooks and more!
Come along to our free introductory sessions to get you reading. Find out how to use all the library online offers. Suitable for beginners.
Coding – starting from Scratch
We will use the Scratch visual programming language to get you started with programming. Suitable for beginners.
Apps
Let us show you some brilliant apps on topics such as cookery, travel, health and wellbeing and of course books and reading. Suitable for beginners.
File storage
There are lots of online places to store your digital files – Google Drive, Apple iCloud and Dropbox. But which suits your needs best? Find out by joining one of the courses. Suitable for beginners.
'IPad basics'
Get the most from your Apple device with this introductory course which covers buttons, switches, cameras, settings, Wifi, Calendar, email and so much more. Suitable for beginners.
Android tablets
Let us help you explore everything your android tablet can do. Join this introductory course to find out more. Suitable for beginners.
Or you can teach yourself by using one of a variety of online resources –
Universal Credit Support
South Lanarkshire Libraries are supporting Universal Credit customers who need assistance with digital skills to be able to access their Universal Credit account.
You can watch the instructional youtube video on how to apply for Universal Credit, or sign in to your Universal Credit account.
When Money is Tight
Helpful information is available on the SLC website to help you make ends meet.
Theory Test Pro
Theory Test Pro is a highly realistic online simulation of the UK's driving theory tests for all vehicle categories. It contains all the official test questions licensed from the DVSA, the people who set the tests. Just use your membership number to test yourself at the Theory Test Pro website.
Access to Research
You can access over 1.5 million academic articles free! Find information about art, architecture, business, engineering, history, languages, politics, and the sciences and a whole lot more at Access to Research website. Please note that this resource is only available when you visit the library.
Let's Get Online
For more information about courses across South Lanarkshire, or if you want to help other people improve their IT skills, have a look at letsgetonline.scot. Libraries, clubs and community organisations across the country are supporting the Scottish Government's 'Let's get online' campaign and offering people the opportunity to join classes and support groups, showing them how to get online and use the internet to their advantage.
Share this page