Online Arts Classes and Courses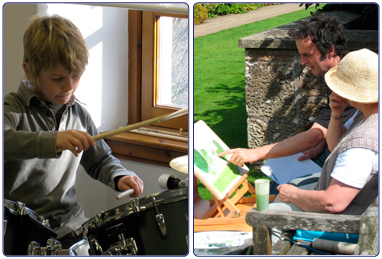 We have now completed six weeks of our FREE programme of online Arts Classes.
The classes are available to view on our YouTube channel (links below).
For a full list of our free arts classes, check out our programme.
Come and join our online Arts community!
Table of links to Week 6 Youtube arts classes

| Class | Week 6 (w/c 3 May 2021) |
| --- | --- |
| Watercolour Jane Ryan | |
| Drawing Kayleigh McCallum | |
| Acrylic Painting Kayleigh McCallum | |
| Abstract Painting Carol Bryan | |
| Get Crafty Liane Clarkson | |
| Dressmaking Liane Clarkson | |
| Textile Susan Stanners | |
| Adult Pottery Claire- Louise McLauchlan | |
| Guitar Beginners Josh McGeechan | |
| Guitar Intermediate Josh McGeechan | |
| Guitar Advanced (a) Josh McGeechan | |
| Guitar Advanced (b) Josh McGeechan | |
| Singing Fiona Clark | |
| Dance Laura Reid | |
| Children's Painting Carol Bryan | |
| Cartoons and Caricatures Neil G Smith | |
| Stained Glass : Arts and Crafts Fiona Foley | |
| Arts and Crafts Erin Donnelly | |
| Drama Colin McCrum | |
| Drama – Script work Jack Sherlock | |
| Drum (a) Ryan Buchanan | |
| Drum (b) Ryan Buchanan | - |
| Teenage Pottery Claire- Louise McLauchlan | |
| Creative Pinch Pots with secret Extras Karen Shakespear | |
| Tiny Art Katie Riddell | |
| Boogie Beats (a) Fiona Clark | |
| Boogie Beats (b) Fiona Clark | |
Table of links to Week 5 Youtube arts classes

| Class | Week 5 (w/c 26 April 2021) |
| --- | --- |
| Watercolour Jane Ryan | |
| Drawing Kayleigh McCallum | |
| Acrylic Painting Kayleigh McCallum | |
| Abstract Painting Carol Bryan | |
| Get Crafty Liane Clarkson | |
| Dressmaking Liane Clarkson | |
| Textile Susan Stanners | |
| Adult Pottery Claire- Louise McLauchlan | |
| Guitar Beginners Josh McGeechan | |
| Guitar Intermediate Josh McGeechan | |
| Guitar Advanced (a) Josh McGeechan | |
| Guitar Advanced (b) Josh McGeechan | |
| Singing Fiona Clark | |
| Children's Painting Carol Bryan | |
| Cartoons and Caricatures Neil G Smith | |
| Stained Glass : Arts and Crafts Fiona Foley | |
| Arts and Crafts Erin Donnelly | |
| Drama Colin McCrum | |
| Drama – Script work Jack Sherlock | |
| Drum (a) Ryan Buchanan | |
| Drum (b) Ryan Buchanan | |
| Teenage Pottery Claire- Louise McLauchlan | |
| Creative Pinch Pots with secret Extras Karen Shakespear | |
| Tiny Art Katie Riddell | |
| Boogie Beats (a) Fiona Clark | |
| Boogie Beats (b) Fiona Clark | |
Table of links to Week 4 Youtube arts classes

| Class | Week 4 (w/c 19 April 2021) |
| --- | --- |
| Watercolour Jane Ryan | |
| Drawing Kayleigh McCallum | |
| Acrylic Painting Kayleigh McCallum | |
| Abstract Painting Carol Bryan | |
| Get Crafty Liane Clarkson | |
| Dressmaking Liane Clarkson | |
| Textile Susan Stanners | |
| Adult Pottery Claire- Louise McLauchlan | |
| Guitar Beginners Josh McGeechan | |
| Guitar Intermediate Josh McGeechan | |
| Guitar Advanced (a) Josh McGeechan | |
| Guitar Advanced (b) Josh McGeechan | |
| Singing Fiona Clark | |
| Dance Laura Reid | |
| Children's Painting Carol Bryan | |
| Cartoons and Caricatures Neil G Smith | |
| Stained Glass : Arts and Crafts Fiona Foley | |
| Arts and Crafts Erin Donnelly | |
| Drama Colin McCrum | |
| Drama – Script work Jack Sherlock | |
| Drum (a) Ryan Buchanan | |
| Drum (b) Ryan Buchanan | |
| Teenage Pottery Claire- Louise McLauchlan | |
| Creative Pinch Pots with secret Extras Karen Shakespear | |
| Tiny Art Katie Riddell | |
| Boogie Beats (a) Fiona Clark | |
| Boogie Beats (b) Fiona Clark | |
Table of links to Week 3 Youtube arts classes

| Class | Week 3 (w/c 25 Jan 2021) |
| --- | --- |
| Watercolour Jane Ryan | |
| Drawing Kayleigh McCallum | |
| Acrylic Painting Kayleigh McCallum | |
| Abstract Painting Carol Bryan | |
| Get Crafty Liane Clarkson | |
| Dressmaking Liane Clarkson | |
| Textile Susan Stanners | |
| Adult Pottery Claire- Louise McLauchlan | |
| Guitar Beginners Josh McGeechan | |
| Guitar Intermediate Josh McGeechan | |
| Guitar Advanced (a) Josh McGeechan | |
| Guitar Advanced (b) Josh McGeechan | |
| Singing Fiona Clark | |
| Dance Laura Reid | |
| Children's Painting Carol Bryan | |
| Cartoons and Caricatures Neil G Smith | |
| Stained Glass : Arts and Crafts Fiona Foley | |
| Arts and Crafts Erin Donnelly | |
| Drama Colin McCrum | |
| Drama – Script work Jack Sherlock | |
| Drum (a) Ryan Buchanan | |
| Drum (b) Ryan Buchanan | |
| Teenage Pottery Claire- Louise McLauchlan | |
| Creative Pinch Pots with secret Extras Karen Shakespear | |
| Tiny Art Katie Riddell | |
| Boogie Beats (a) Fiona Clark | |
| Boogie Beats (b) Fiona Clark | |
Table of links to Week 2 Youtube arts classes

| Class | Week 2 (w/c 18 Jan 2021) |
| --- | --- |
| Watercolour Jane Ryan | |
| Drawing Kayleigh McCallum | |
| Acrylic Painting Kayleigh McCallum | |
| Abstract Painting Carol Bryan | |
| Get Crafty Liane Clarkson | |
| Dressmaking Liane Clarkson | |
| Textile Susan Stanners | |
| Adult Pottery Claire- Louise McLauchlan | |
| Guitar Beginners Josh McGeechan | |
| Guitar Intermediate Josh McGeechan | |
| Guitar Advanced (a) Josh McGeechan | |
| Guitar Advanced (b) Josh McGeechan | |
| Singing Fiona Clark | |
| Dance Laura Reid | |
| Children's Painting Carol Bryan | |
| Cartoons and Caricatures Neil G Smith | |
| Stained Glass : Arts and Crafts Fiona Foley | |
| Arts and Crafts Erin Donnelly | |
| Drama Colin McCrum | |
| Drama – Script work Jack Sherlock | |
| Drum (a) Ryan Buchanan | |
| Drum (b) Ryan Buchanan | |
| Teenage Pottery Claire- Louise McLauchlan | |
| Creative Pinch Pots with secret Extras Karen Shakespear | |
| Tiny Art Katie Riddell | |
| Boogie Beats (a) Fiona Clark | |
| Boogie Beats (b) Fiona Clark | |
Table of links to Week 1 Youtube arts classes

| Class | Week 1 (w/c 11 Jan 2021) |
| --- | --- |
| Watercolour Jane Ryan | |
| Drawing Kayleigh McCallum | |
| Acrylic Painting Kayleigh McCallum | |
| Abstract Painting Carol Bryan | |
| Get Crafty Liane Clarkson | |
| Dressmaking Liane Clarkson | |
| Textile Susan Stanners | |
| Adult Pottery Claire- Louise McLauchlan | |
| Guitar Beginners Josh McGeechan | |
| Guitar Intermediate Josh McGeechan | |
| Guitar Advanced (a) Josh McGeechan | |
| Guitar Advanced (b) Josh McGeechan | |
| Singing Fiona Clark | |
| Dance Laura Reid | |
| Children's Painting Carol Bryan | |
| Cartoons and Caricatures Neil G Smith | |
| Stained Glass : Arts and Crafts Fiona Foley | |
| Arts and Crafts Erin Donnelly | |
| Drama – Script work Jack Sherlock | |
| Drum (a) Ryan Buchanan | |
| Drum (b) Ryan Buchanan | |
| Teenage Pottery Claire- Louise McLauchlan | |
| Creative Pinch Pots with secret Extras Karen Shakespear | |
| Tiny Art Katie Riddell | |
| Boogie Beats (a) Fiona Clark | |
| Boogie Beats (b) Fiona Clark | |
Share this page