Dance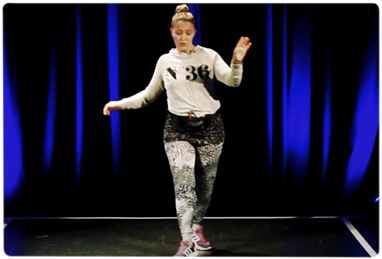 Young at Heart dance classes
Dance is a great way to exercise at any age but as we get older it's very important to keep active and mobile, which is what the Young at Heart dance class helps to do. These weekly classes offer tuition in various dance styles and levels of experience. They are created with the aim to improve your fitness, balance, flexibility, and co-ordination and will also provide a fantastic work out for the brain. Come along and take the class at your own pace: stretch, step, glide, and salsa your way to a fitter you.
No previous dance experience needed, just the ability to get carried away with the music.
NB: All listed prices subject to increase from April 2024.
East Kilbride Arts Centre, Mondays 9:30am - 10:30am, 10:30am - 11:30am or 11:30am - 12:30pm
This table contains information on Dance courses at East Kilbride Arts Centre
Term
Dates
No. of weeks
Fee / concession
1 & 2
15 Aug - 14 Nov 2022
excludes 26 Sep and 17 Oct
12
£65.40 / £48.60
3
9 Jan - 27 Mar 2023
12
£65.40 / £48.60
4
17 Apr - 26 Jun 2023
excludes 1 and 29 May
9
£52.65 / £39.60
SL Lifestyles Carluke, Tuesdays 10:00am - 11:00am
This table contains information on Dance classes at SL Lifestyles Carluke

| Term | Dates | No. of weeks | Fee / concession |
| --- | --- | --- | --- |
| 1 | 16 Aug - 11 Oct 2022 | 9 | £5.45 / £4.05 per session |
| 2 | 25 Oct - 13 Dec 2022 | 8 | £5.45 / £4.05 per session |
| 3 | 10 Jan - 28 Mar 2023 | 12 | £5.45 / £4.05 per session |
| 4 | 18 Apr - 20 Jun 2023 | 10 | £5.85 / £4.40 per session |
The Town House Hamilton, Thursdays 1:00pm - 2:00pm
This table contains information on Dance classes at The Town House, Hamilton

| Term | Dates | No. of weeks | Fee / concession |
| --- | --- | --- | --- |
| 1 | 18 Aug - 13 Oct 2022 | 9 | £5.45 / £4.05 per session |
| 2 | 27 Oct - 15 Dec 2022 | 8 | £5.45 / £4.05 per session |
| 3 | 12 Jan - 30 Mar 2023 | 12 | £5.45 / £4.05 per session |
| 4 | 20 Apr - 22 Jun 2023 | 10 | £5.85 / £4.40 per session |
The Town House Hamilton, Fridays 10:00am - 11:00am
This table contains information on Dance classes at The Town House, Hamilton

| Term | Dates | No. of weeks | Fee / concession |
| --- | --- | --- | --- |
| 1 | 19 Aug - 14 Oct 2022 | 9 | £5.45 / £4.05 per session |
| 2 | 28 Oct - 16 Dec 2022 | 8 | £5.45 / £4.05 per session |
| 3 | 13 Jan - 31 Mar 2023 | 12 | £5.45 / £4.05 per session |
| 4 | 21 Apr - 23 Jun 2023 | 10 | £5.85 / £4.40 per session |
Share this page