Contact details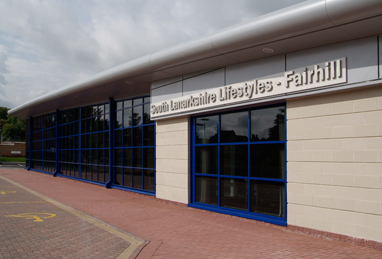 South Lanarkshire Lifestyles Fairhill
Neilsland Road
Hamilton
ML3 8HJ
Head of facility
Martin Cain, Recreation Officer
Tel: 01698 456350
Fax: 01698 456359
Email: fairhill@southlanarkshireleisure.co.uk
General opening hours
Please see below for opening times of our gym and library.
Gym opening hours
Monday 9:00am to 9:00pm
Tuesday 9:00am to 9:00pm
Wednesday 9:00am to 9:00pm
Thursday 9:00am to 9:00pm
Friday 9:00am to 5:00pm
Saturday 9:00am to 1:00pm
Sunday Closed
Price list
Activities can be accessed on a pay as you play basis or by one of our memberships on monthly direct debit.
This table contains information on pay as you play prices at Fairhill Lifestyles

| Activity | Adult | Junior / concession |
| --- | --- | --- |
| Fitness class | £6.25 | £3.20 |
| Gym session | £6.75 | £3.40 |
| The Perfect Fit * | £37.35 | £18.70 |
* Gym orientation and fitness programme. Free for fitness members.
For birthday parties or hall hire please contact reception.
Library opening hours
Tel: 01698 456360
Email: fairhill@library.s-lanark.org.uk
Monday 9:15am to 12:30pm and 1:30pm to 5:00pm
Tuesday 9:15am to 12:30pm and 1:30pm to 5:00pm
Wednesday 2:00pm to 5:00pm
Thursday 9:15am to 12:30pm and 1:30pm to 5:00pm
Friday 9:15am to 12:30pm and 1:30pm to 5:00pm
Saturday 9:30am to 12:30pm
Sunday Closed
Please note the ActiveIT suite opens 15 minutes after opening and closes 15 minutes before above closing times.
ActiveIT facilities comprise:
3 Chromeboxes and 8 PCs with office applications
mono printing
colour printing via Fairhill print email account
2 flatbed scanners
Credit Union opening hours
Tel: 01698 282200
Fax: 01698 284661
Email: hamiltoncreditunion@hotmail.co.uk
Monday to Friday 10:00am to 12:30pm and 1:00pm to 3:00pm
Starbucks Coffee Shop opening hours
The Starbucks café is open from 8:15am – 2:30pm.
Disabled access
Fairhill is designed with disability access in mind. The centre has disabled parking (8 spaces), automatic entrance doors, accessible reception and accessible changing area. Also there is a Changing Places toilet, accessible toilet, courtesy wheelchair, Hearing Loop, Language Line and Typetalk. The gym equipment is also accessible for disability usage. There is a range of machines that can be used to improve your health and fitness. Assistance dogs are welcome.
Location map
Share this page