Types of adventure activities
---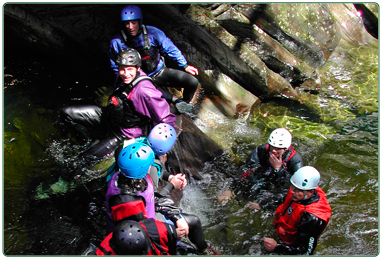 Archery:
Using bows and arrows to fire at targets in a confined and designated safe area.
Camping:
Staying out overnight in tents either in a camp site or in a remote setting.
Canoeing:
Larger, open solo or double boats powered by the occupant(s) using a single bladed paddle on lochs, canals or rivers.
Climbing / Abseil:
Ascending / descending rock crags or purpose built indoor man - made walls using specialist equipment.
Duckies:
Inflatable rubber kayak/canoe, paddled by two persons on moving water
Gorge Walking / Scrambling:
Travel by walking, scrambling, swimming and jumping, wearing suitable clothing and using specialist equipment up either a dry or wet gorge / river bed.
Hill walk:
A walk up or across remote hillsides as well as less remote walks along nature trails, canals and footpaths etc.
Kayaking:
Small, enclosed solo boats powered by the occupant using a double bladed paddle on lochs, canals or rivers.
Orienteering:
Locating various markers and points indicated on maps to find either codes or answers to puzzles and problems. This activity may be remotely supervised (see below) in order for the participants to get the most learning from the activity.
Mountain biking:
Travelling along roads, tracks and trails using purpose built mountain bikes.
Power boating:
Experience controlling our powerful powerboats on a selection of courses.
Remote Supervision:
In some instances participants may be some distance from their group leader or Instructor due to the nature of the activity i.e. Orienteering or Duke of Edinburgh expeditions and appropriate measures will be put in place to manage the activity.
Sailing:
Use the wind to manoeuvre our Small sailing dinghies suitable for one or two people, around our 16 acre loch at James Hamilton Heritage Park.
Skiing / Snowboarding:
Travelling down either snow slopes or man made matting on either a pair of skis or a single snowboard.
Stand Up Paddle boarding:
A great fitness activity requiring good balance, using a paddle to manoeuvre yourself around our loch at a pace you wish.
Team Building:
Activities using props and tools to simulate situations which require team work, communication, listening, cooperation, motivation etc in order for the group to be successful.
Windsurfing:
Using the wind to manoeuvre around the loch using a range of windsurf boards, our windsurf sails are suitable for all from total beginner to the more advanced.
Contact us for further information.
Share this page