Duke of Edinburgh expeditions
---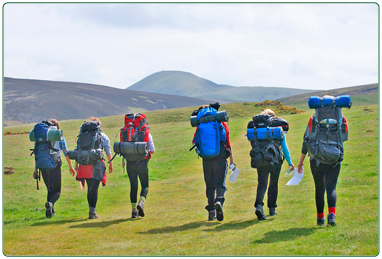 Outdoor Learning and Adventure (OLA) have been successfully delivering Bronze, Silver and Gold Duke of Edinburgh expeditions on foot, on bikes or by boat for over 10 years. As an established Outdoor Education Service we are both an Approved Activity Provider for DofE and have been inspected by the Adventure Activity Licensing Service.
Our team of skilled instructors deliver programmes to the highest standard; all have a comprehensive range of National Governing Body qualifications combined with considerable experience of working with a diverse mix of young people. This allows us to successfully provide high quality land and water-based expeditions, residentials and training to a broad spectrum of participants.
OLA offers a versatile selection of activity programmes which can be tailored to suit experience and ability and meet the requirements of each individual group. We have access to a variety of stunning locations so venues can be chosen to best meet the agreed aim of the expedition and provide appropriate levels of challenge. We are able to provide logistical support and guidance which will assist with planning and can also provide supervision, training, equipment and transport as part of your booking with us.
Download the Duke of Edinburgh Award Expedition Training Packages brochure or the Primary School Activities Programme.
OLA can provide:
Support to establishments (schools, youth groups and organisations) and individuals in the expedition component of the Award
Expedition training for all levels of the Award
Leadership training, guidance and support for your team of trainers/ assessors in their delivery of the Award expeditions section
Training and assessment in National Governing Body leadership awards in disciplines related to the expedition section (hill walking, kayaking, canoeing and cycling)
Opportunities for more remote and exciting expeditions including overseas expeditions.
Equipment, transport and logistical support
OLA can run Bronze, Silver or Gold training and qualifying expeditions monthly throughout the expedition season at very competitive rates. Previous trips have included:
Canoeing the length of Loch Tay
Mountaineering in the French Alps
Island hopping on Loch Lomond in touring kayaks
Mountain biking through Queen Elizabeth Forest in Trossachs National Park
Exploration and navigation on Arran
With easy access to the Scottish Highlands and miles of paths, rivers, trails, canals and lochs on our doorstep we can accommodate your group in whichever mode of expedition transport they may choose in a variety of spectacular venues.
Please contact us for a choice of dates and we will be happy to discuss how we can facilitate your next Duke of Edinburgh's Award excursion.
Share this page