Outdoor adventure programme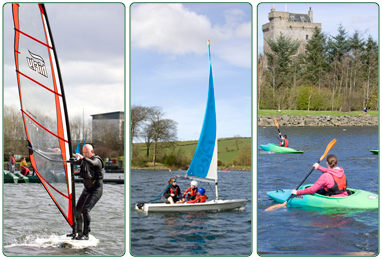 ---
In addition to sailing, mountain biking, rock climbing, canoeing, skiing and windsurfing we have a range of fitness classes including:
Paddle fit - High intensity fitness class based on Kayaking
Open Water Swimming - Experience swimming on the 16 acre loch
Junior Powerboating from age 8
We also offer an Active After School club offering an exciting alternative to regular after school activities.
Please call 01355 276611 for activity dates.
---
Throughout the year Outdoor Learning and Adventure offer a range of land and water based activities.
At the James Hamilton Heritage Park we offer dinghy sailing, windsurfing, power boating and canoeing courses as well as a range of taster sessions that can be shaped to any level of ability or experience. Courses follow structured learning syllabuses provided by the Royal Yachting Association or the Scottish Canoe Association. A junior adventure club for 8-15 years also runs each Saturday during the water sport season.
During school holidays a programme of activity is provided by the Outdoor Resource Base (during Easter, Summer and October breaks). These programmes include a range of multi-activity programmes including mountain biking, climbing and canoeing as well as courses focusing on developing skills in a particular activity. These programmes range in duration from single day trips to five day programmes.
Please call 01355 276611 for activity dates.
Share this page