Courses and classes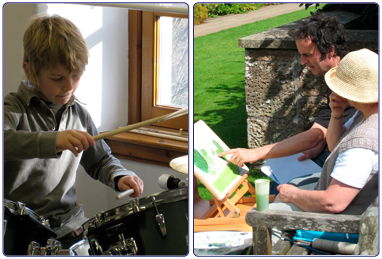 Our wide-ranging programme is designed to accommodate all needs, ages and abilities. This includes classes in visual arts, crafts and design, ceramics and musical instrument tuition at key cultural venues. The Arts Development Officer also develops bespoke workshops, master classes, summer schools and specialist CPD courses. Examples include provision for charities working with vulnerable teenagers or specialist CPD provision for secondary Art and Design teachers.
Children's art classes are included in our ACE / Tiny ACE programme of Arts, Culture and Exercise classes.
For further information on Arts Development classes and courses please call the Arts Development Officer on 01698 452299 or email artsdevelopment@southlanarkshireleisure.co.uk.
Courses and classes programme
Our Arts Development team provide an annual programme of adult classes and courses at venues throughout South Lanarkshire.
See what is available in different categories via the links below:
Term dates for 2023-2024
*Please note that East Kilbride Arts Centre operates a merged term 1 & 2 from Monday 14 August to Monday 13 November and automatic re-enrolment will take place from Monday 30 October until Sunday 12 November.
Term 1*
Monday 14 August – Sunday 15 October 2023 (excludes 25 September in some venues)
Automatic re-enrolment for Term 2 – Monday 2 to Sunday 15 October
Term 2*
Monday 23 October – Sunday 17 December 2023
Automatic re-enrolment for Term 3 – Monday 4 to Sunday 17 December
Term 3
Monday 8 January – Sunday 24 March 2024
Automatic re-enrolment for Term 4 – Monday 11 to Sunday 24 March
Term 4
Monday 15 April – Sunday 23 June 2024 (excludes 6, 24 and 27 May in some venues)
Automatic re-enrolment for Term 1 (2024-2025) – Monday 10 to Sunday 23 June
How to book
For new customers, please check availability on our classes and courses and / or book a place by contacting the booking office at:
For existing customers automatic re-enrolment for the next term occurs at the end of each term. If you do not wish to continue with a course / class, please notify the venue before or during the re-enrolment period.
Please note that all courses must be booked in advance. Workshops / classes will only run if sufficient numbers of people enrol.
Payment methods
Payments can be made in cash or by credit / debit card or cheque. Cheques should be made payable to South Lanarkshire Leisure and Culture SCIO.
Concessions
Holders of SLLC 'Leisure for All' concession cards are eligible for concessionary prices. Other concessions may be available. Please contact venue for details.
Please note that proof of concession status must be provided at one of the main venues:
Terms and conditions
All courses, classes and sessions must be pre-booked and paid in full (unless stated otherwise) prior to the commencement of each course, class or session.
Bookings will be taken on a 'first come, first served' basis (unless stated otherwise)
Reduced rates are available for holders of a current SLLC 'Leisure for all' concession card. Please ensure your concession card is valid to beyond the start date of your chosen activity at the time of booking. Further information on eligibility can be found on the website or by calling 01698 476262.
SLLC cannot be held responsible for injury or loss of belongings sustained whilst participating in any course or session.
SLLC reserve the right to cancel / alter / relocate sessions without notice and will run subject to minimum numbers. In the event of an activity being cancelled we will take reasonable steps to notify participants. SLLC will not be held responsible for any travel, accommodation or other ancillary costs incurred by the participant.
Participants agree to abide by SLLC's Management Rules at all times. These are available to customers on request and / or are displayed within facilities and venues.
The unauthorised use of photographic and / or recording equipment is strictly prohibited.
Payments cannot be refunded except in circumstances where the course, class or session has been cancelled.
Customers must inform the box office of special access requirements at the time of booking, for example wheelchair users or those who cannot use stairs.
Medical information
Please provide details of any medical conditions that we would need to be aware of. Providing this information enables SLLC to provide the best service and / or adapt classes to support the needs of participants.
Other language or format
If you need this information in another language or format please contact us to discuss how we can best meet your needs.
Phone: 01698 476262
Text phone: 18001 01698 476262
Share this page