Health suite - Dollan Aqua Centre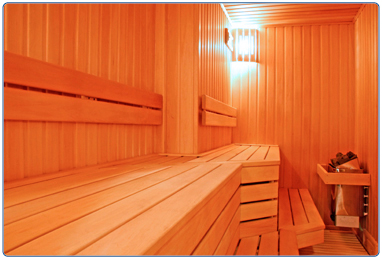 ---
Our health suites provide the perfect way to unwind. Relax in one of our traditional saunas and enjoy the benefits including detoxified skin and improved circulation. Move from the dry heat of the sauna into the humid heat of the steam room and enjoy further benefits including skin hydration, soothed muscles and increased metabolism.
Indulge yourself in one of our spa baths and be massaged and invigorated by the mix of air and water dispersing over you. After all this heat, you can cool down by taking a dip in the pool.
Please note: under 16s are not permitted to use the health suite.
The health suite has been transformed with newly formed sauna, steam room, sanarium and locker facilities.
Table of facilities in Dollan Aqua Centre health suite

| Facility | Purpose |
| --- | --- |
| Sauna | Dry heat for detoxification |
| Sanarium | Mixture of dry and wet heat |
| Steam Room | Humid heat for skin hydration |
| Spa Bath | Warm pool of massaging bubbles |
| Relaxation Area | Water fountain, television and seating area |
Dollan Aqua Centre health suite opening times

Day
Time
Monday
4:30pm - 9:30pm, pool access from 7:00pm - 9:30pm
Tuesday
9:00am - 2:15pm, pool access from 9:00am - 10:45am and 12:00pm - 2:15pm
Wednesday
4:30pm - 9:30pm, pool access from 8:00pm - 9:30pm
Thursday
9:00am - 2:15pm, pool access from 9:00am - 2:15pm
Friday
9:00am - 2:15pm, pool access from 9:00am - 12:00pm
and 12:45pm - 2:15pm
Saturday
10:00am - 2:00pm, no pool access
Sunday
10:00am - 2:00pm, no pool access
Share this page