Swim Skills 4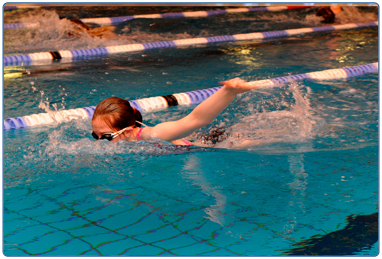 Entry Criteria
Physical
Swim 50m on front as defined in curriculum (level 3)
Swim 50m on back as defined in curriculum (level 3)
Breaststroke technique as defined in curriculum (level 3)
Dolphin movements
Beginner diving
Retrieve object from pool floor (minimum depth 1.2m)
Psychological
Be part of a class
Swim in deep water
Participate without adult or 1 - 1 help
Able to perform a basic piece of work on their own
Able to make small refinements to technique
Aim
To improve the quality of stroke technique, introduce multi aquatic skills / disciplines and basic lifesaving skills.
Objectives
To demonstrate competent technique in all four strokes
Introduce lifesaving skills and basic aquatic discipline skills
To provide basic skills to enable progression in all aquatic disciplines, including life saving
Content Areas (Core aquatic skill area in bold)
Streamlining – ensure that it is evident within all areas of aquatic skills
a. Starts – push off the wall and diving
b. Turns – streamline in / streamline out
c. Stroke technique – maintain streamlining for efficiency and to reduce resistance
Propulsion – demonstrate competent technique in all four strokes
a. Show competency and efficiency over increasing distance
b. Balanced, controlled and alternating arm and leg action (front crawl and back crawl)
c. Progress competency, efficiency and timing in Butterfly and Breaststroke
Aquatic Breathing
a. Maintain bi-lateral breathing in front crawl between 25 metres and 50 metres
b. Demonstrate breathing in as one arm recovers and breathing out as the other arm recovers in back crawl
Rotation – rotate competently around horizontal axis
a. Somersault forward and backwards
Sculling – scull prone and supine with different arm and hand positions for support and travel
a. Head first, feet first and stationary sculling
b. Perform a movement sequence of all three
c. Transition between head first and feet first sculling while moving
Treading Water – use scissor, Breaststroke or eggbeater
a. Ability to stay vertical with the head clear of the water
b. Using continuous kicking and sculling action to maintain vertical position
c. Ability to move in any direction
Taster Activities
a. Play a mini polo game
b. Introduce Synchronised Swimming skills
c. Introduce Diving skills
d. Water safety skills
e. Swim racing skills
Exit Criteria - Swim Skills 4
Swim minimum 50 metres of Frontcrawl demonstrating push and glide, competent technique with bi-lateral breathing, high elbow and reach and pull
Swim minimum 50 metres of Backcrawl demonstrating push and glide, good technique, steady head position with rolling of the shoulders round the long axis
Swim minimum 50 metres of Breaststroke demonstrating push and glide, good technique and basic undulation
Swim minimum 15 metres of Butterfly demonstrating push and glide, competent technique and basic undulation
Perform a dive with transition to any stroke
Perform a straddle jump and tread water for 45 seconds
Swim Officers
If you want more information on our swimming courses or you would like to book a place, please contact the Swim Officer at the facility you wish to use.​​​​​​​
Share this page
Swim Officers contact details