Active communities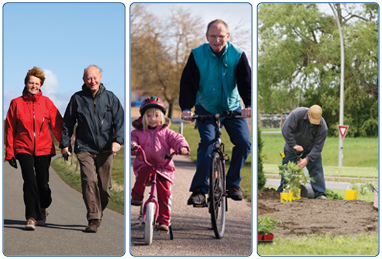 Active Communities is here to help you achieve a more active and healthier lifestyle!
Did you know that it only takes 150 minutes of physical activity during each week to become healthier, happier and more energised?
Being active has never been so easy and enjoyable. Active Communities can help you, your organisation or group, find, take part in or develop the right activity to help you achieve a healthier happier you!
Why not get involved in a community lead health walk in your area, or come along to gardening, cycling or a community fitness class?
Activity programmes:
If you would like to be part of any of the community initiatives mentioned above, or if you want to introduce and promote physical activity to a group or organisation, please get in touch.
Greenspace
Greenspace is defined as an area of grass, trees, or other vegetation set apart for recreational or aesthetic purposes in an otherwise urban environment.
With NHS Lanarkshire, North Lanarkshire Council, South Lanarkshire Council, North Lanarkshire Leisure, South Lanarkshire Leisure & Culture, Health Scotland, Scottish Natural Heritage, Forestry Commission Scotland, Paths for All, Voluntary Action North Lanarkshire and Voluntary Action South Lanarkshire all working in partnership it shows the value and importance of Greenspace and what happens within it.
Throughout North & South Lanarkshire there are some fantastic opportunities to go out and explore your local Greenspaces, some of which may be more obvious than others! Being outdoors has numerous health benefits, both physically and for your mental health & wellbeing.
Access Greenspace activity information to see what is on in your local Greenspace areas; whether you are looking for a club to join, an activity to do or simply an area where you can go and explore on your own, you will find a range of opportunities to discover.
Related Links:
Elament Greenspace
Get Walking Lanarkshire
Healthy n Happy Community Development Trust
Healthy Valleys
Made for mums
Net mums
Paths for all
Share this page