Pre/post natal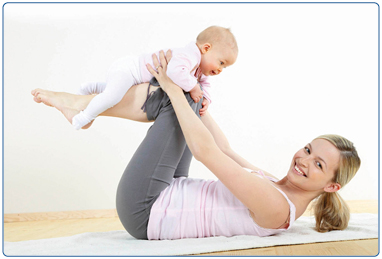 Are you pregnant or have you recently had a baby? Are you looking for some activities to keep yourself and your baby healthy?
Benefits from exercising during pregnancy:
Strengthening heart and lungs
Controlling and maintaining healthy weight
Improving stamina, circulation and posture
Reducing symptoms of pregnancy
Improved sleep pattern
Reduced anxiety and improved relaxation
Aid faster post natal recovery
Which types of exercise can I do?
Walking is a great form of exercise. You can easily incorporate it into your everyday life. If you didn't exercise before, this is a great way to get you started.
Running is fine as long as you're experienced. If you are new to running, it's not a good idea to take it up now.
Prenatal yoga will help you relax and ease body tension with gentle stretching and breathing techniques.
Aerobics classes (including online classes) created for pregnant women include low-impact exercises.
Pelvic floor and abdominal exercises are really important in pregnancy. Try to fit them into your daily routine as there are many benefits, including strengthening your muscles and joints.
Weigh to Go: New Mum is a 10 week free adult weight management programme. Delivered in partnership between SLLC and NHS Lanarkshire. It includes a 45 minute nutritional and behaviour change segment followed by 45 minutes of Fun Stroller Fitness
Tiny ACE
Looking for activities for you and your new born baby? Tiny ACE offers lots of activities tailored for you and your baby's needs with a programme of sports, culture and library activities for children from birth to preschool. These activities will let your child explore and develop their creativity, speech, social and motor skills. They also are a place where you and your baby can meet new friends.
Other information sources
Our partners, the NHS, share their trusted help and advice during pregnancy to guide you.
The Daisy Foundation, Lanarkshire also offer a variety of Early Years products, from birthing to toddler classes.
South Lanarkshire Leisure and Culture are interested in the health and wellbeing of all our users. We are proud to link with a Post Natal Depression peer support group in South Lanarkshire. Find out more on their Facebook page.
Share this page